Bobi Mailbox – A Finland Modern Design with Classic Overtones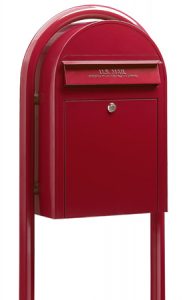 For Americans who grew up during the 20th century, the sloping arch top design of the Bobi mailbox from Finland evokes the nostalgic feelings of walking to the ever-present neighborhood USPS blue collection mailbox.
The classic design motif of the Bobi mailbox communicates to one's neighborhood that it is unmistakably a mailbox and yet the clean Finnish style says it is far more than a just an ordinary residential mailbox.
Bobi mailboxes, available at The MailboxWorks, are simply where classic and modern mailbox styles meet.
Bobi Steel Mailboxes
Bobi mailboxes are more than a statement of style. The stability projected by the Bobi mailboxes choice of design materials says it is just as long lasting in its design as the "big blue mailbox" predecessor.
For example, all Bobi locking mailboxes are constructed of 20-guage steel, which is doubled at each corner of the mailbox for superior strength. This is then mated with a secure locking mechanism. This combination protects your mail against mail theft as well as the elements of inclement weather.
And while residential Bobi mailboxes don't occupy an entire corner of the community sidewalk, they are a delight to homeowners who enjoy magazine subscriptions and regularly receive large envelopes as the mouth of all Bobi jumbo mailboxes allows both magazines and envelopes to be delivered without the annoyance of folding them to fit through the mail slot.
And for homeowners who receive large volumes of mail or are away from their mailbox for extended vacations or trips, Bobi grande mailboxes are available. These are generously sized "Grande" mailbox models that can securely store large amounts of delivered mail.
Rear Access Mailboxes
Beyond capacity and style, Bobi mailboxes also provide homeowners who live on busy streets (or in challenging installation or mail retrieval settings) with the ability to collect one's mail from the back of the mailbox unit.
With a rear access Bobi mailbox the homeowner doesn't have to step out into a busy street or through one's gate or fence to retrieve the daily mail delivery.
Rear access Bobi mailboxes make it easy for parents to safely pass on the responsibility of collecting the mail without endangering their child's safety.
Bobi mailboxes are available in five modern finishes:
Matte black Bobi mailboxes
Grey Bobi mailboxes
Stainless steel Bobi mailboxes
Red Bobi mailboxes
White Bobi mailboxes
The elegantly curved Bobi mailbox post that accompanies each Bobi mailbox follows the bowed roofline and are available in four finishes; a glossy black, red, white and stainless steel.

Tags: post mount mailboxes, Wall Mount Mailboxes


Categorised in: Residential Mailboxes