The Classic Post Mount Mailbox Design of the Architectural Bellevue Mailbox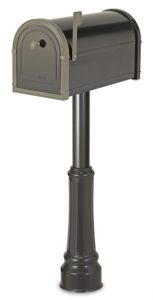 Homeowners nearly always elevate classic post mount mailboxes with one single action, the opening and closing of the mailbox door. And when it comes to this all-important test, Architectural Bellevue mailboxes, available at The MailboxWorks, pass with flying colors.
"There's just something substantial in the weight of the mailbox door and the way it clicks perfectly into the body of the Bellevue mailbox itself that tells you, 'This is no ordinary mailbox,'" remarks one seasoned residential architect, "and yet it is attractively affordable."
Bellevue Mailbox Construction
Each Architectural Mailboxes Bellevue mailbox is expertly constructed with solid, weather-defying galvanized steel and punctuated with solid die-cast aluminum accents, all powder coated for added protection.
Bellevue Mailbox Posts
Bellevue post mount mailboxes are available with one of three mailbox post designs:
Standard square mailbox post
Basic 3" round mailbox post
Deluxe mailbox post with finial
Standard Post – The standard post is a square post that mounts to the center of the mailbox and is supplied in a matching finish to the Bellevue post mount mailbox selected.
Basic Post – The basic post is also mounted to the center of the Bellevue mailbox but is supplied with an elegantly designed collar to enhance the otherwise basic round post and hides the otherwise unsightly intersection of post and ground. The basic post is also supplied in a matching finish to your mailbox color choice.
Deluxe Post – Unlike the Bellevue basic posts and standard posts, the Bellevue deluxe mailbox post moves the mounting position from beneath the mailbox to the rear or back of the Bellevue mailbox to allow the post to rise above the height of the mailbox as an architectural element that features an elegant finial top.
Bellevue Mailbox Colors
Bellevue post mount mailboxes are available at The MailboxWorks in six expertly matched, color design combinations:
Bellevue mailbox black with bronze accents
Bellevue mailbox black with white bronze accents
Bellevue mailbox bronze with platinum accents
Bellevue mailbox bronze with white bronze accents
Bellevue mailbox white with bronze accents
Bellevue mailbox white with platinum accents
Customizing Bellevue Mailboxes
The Bellevue post mount mailbox can be further customized with your street name and address numbers that can be affixed to the side of the Bellevue mailbox in a vinyl finish that matches your mailbox design choice.

Additionally, Bellevue post mount mailboxes can be ordered without a deluxe or basic post, which broadens the design combinations to include five more choices. An optional matching mailbox newspaper holder is also offered.

All Bellevue post mount mailboxes feature a decorative rope accent along the vertical rise of the mailbox door as well as a matching doorknob that's elegantly positioned at the rise of the door to assist with every day ease-of-use.

Also supplied in the matching accent color is the ubiquitous mailbox signal flag positioned along the side of the mailbox.

Tags: post mount mailboxes


Categorised in: Residential Mailboxes