Complimentary 4C Mailbox Layout & Design Help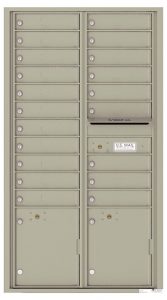 4C horizontal mailboxes are an often-required component for the new construction of multi-tenant developments. And while some novice mailbox buyers simply mimic the versatile 4C mailbox suites' configuration found on another site, experienced developers and property managers understand that the proper 4C Mailbox Layout and Design for their unique site often translates to:
Higher tenant retention rates
Lower exposure to risks and associated liabilities
In fact, most experienced buyers of versatile 4C mailbox suites now realize they no longer need to employ highly compensated architects and designers to meet the most appealing and safe configuration requirements for their project's 4C mailboxes.
UPDATE: 4C Pedestal Mailboxes have been discontinued as of November 30, 2020. The USPS Cluster Box Unit (CBU) Mailbox is now the standard for all multi-family mail delivery.
Layout & Design Included with Commercial Mailbox Purchase
What many new developers and property managers may not realize is that with their purchase of 4C mailboxes, professional 4C mailbox layout design is a complimentary service provided by The MailboxWorks, the nation's leading commercial mailbox retailer.
Since 1989, The MailboxWorks' mailbox consultants have provided expert 4C mailbox layout and design configuration advice to thousands of developers, architects, designers, and property managers across North America.
With nearly two and half decades of experience, the mailbox experts at The MailboxWorks can lead your staff or consultants through the various mailbox layout options that often perplex new buyers of 4C mailboxes. It is important to take into account:
The construction project itself
The needs of the management firm
And the needs of the tenants
The professionals at The MailboxWorks provide layout and installation advice concerning:
The use of front-loading versus rear-loading 4C mailboxes
4C mailbox mounting options
Plus tenant mailbox suite configurations
Secure 4C Mailboxes Promote Community & Safety
The experience of our professional mailbox consultants can make a huge difference between 4C mailbox installations that are subject to vandalism, theft, and other such high liability issues, and installations that promote community, safety, and even tenant retention.
And when it comes to Cluster Box Commercial Mailboxes, no other retailer has the experience that The MailboxWorks offers.
Your complimentary 4C mailbox layout consultation can be communicated in whatever medium is most convenient for you. Whether you prefer to begin your mailbox consultation through an online chat interaction, a form completion, email, or phone call (1-866-717-4943), the experts at The MailboxWorks are here to help.
Help from Commercial Mailbox Experts
And unlike dropship competitors whose knowledge of the product is limited to product numbers and price, The MailboxWorks has a full staff of commercial mailbox experts who work in the same building that your orders are shipped from.

We know commercial mailboxes especially 4C mailboxes and we understand the best and most cost-efficient mailbox configurations so we can provide quick answers to your layout and design questions.

Plus, when you receive your complimentary Professional Layout Design for Your 4C Mailboxes, you'll also receive a detailed mailbox quote that includes significant quantity discounts and the peace of mind that The MailboxWorks stands behind every product sold.

As a buyer of 4C mailboxes, you can take great comfort in knowing you are receiving not only the best price but also the best help to find the right layout and design configuration for the versatile 4C mailboxes you need. The MailboxWorks is a company that fully stands behind every mailbox order.

Tags: 4C Mailboxes


Categorised in: Commercial Mailboxes