Options for 4C Horizontal Mailboxes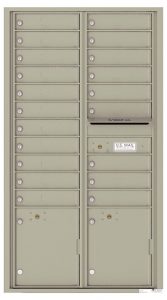 4C horizontal mailboxes can be utilized as apartment mailboxes and are available in a near-endless selection of tenant mailboxes to fit buildings of every size, from small to large. They are also designed by the Florence Corporation with advanced security features providing a sense of well-being to tenants and ultimately positively impacting tenant retention.
Over the years, developers and property managers from across North America have come to trust Florence 4C horizontal mailboxes, available at The Mailboxworks. These are the perfect choice for their multi-tenant buildings and apartments that receive USPS service.
These inherent security features make it difficult for thieves to gain a foothold in multi-tenant buildings and apartments, which also helps to ease the mind of the building's property managers.
UPDATE: 4C Pedestal Mailboxes have been discontinued as of November 30, 2020. The USPS Cluster Box Unit (CBU) Mailbox is now the standard for all multi-family mail delivery.
Horizontal mailboxes are also offered as either rear loading or front loading 4C mailboxes.
Front Loading Mailboxes
Typically front loading 4C horizontal mailboxes are installed inside of the building (although exterior mountings can be accomplished) and can be:
Recessed into the wall
Surface-mounted onto a wall
Or the entire 4C horizontal mailboxes unit can be installed into a kiosk
Rear Loading Mailboxes
These are far less common as they require a secure mailroom inside the building for the postal carrier to access and load the mail into the rear of the unit for each tenant.
Once a property manager selects the number of 4C tenant mailboxes required and the proper mounting for their particular needs, the following product decisions are primarily aesthetic and fairly easy to make.
4C Mailbox Color Choice and Finish
While the most common color choices for the 4C horizontal mailboxes are sandstone and postal grey, they are also available in six additional designer colors:
Black             Dark Bronze             Antique Bronze
White           Silver Speck             Gold Speck
Typically, building developers and property managers choose colors to complement the current architectural style and color of the building or the other property accessories.
Mailbox Door ID Numbers
For property managers looking to further distinguish the look of their properties through the customization of their 4C horizontal mailboxes, one expert tip is to consider utilizing unique tenant door identification tags displayed on each tenant mailbox door.
Typically, these tenant identification tags are simple silver placards numbered for each mailbox. However, there are three other mailbox ID tags one might consider:
Custom numbering or lettering on the stock silver placards
Professional engraving of each identification number or letter for each tenant mailbox door
Professional engraving with a color infill of either black or white
Paired with the custom 4C mailbox finishes above, beautiful finish combinations such as a black 4C horizontal mailbox unit with white infilled engraved numbers or a silver speck finish with black infilled engraved numbers can quickly provide an upscale look.
Ordering 4C Mailboxes
The most important decision, however, is where you order your 4C horizontal mailboxes from.

Many Internet commercial mailbox retailers require you to choose your own mailbox units without any expert advice, as they simply drop ship the orders directly from the manufacturer.

The MailboxWorks however, is the nation's leading retailer of 4C horizontal commercial mailboxes providing both the convenience of ordering online, as well as access to the expertise of a commercial mailboxes expert, someone who can guide you through the ordering process so that you get the most out of your investment.

The experts at The MailboxWorks know mailboxes and can provide instant answers to any concerns or questions you may have.

And when you get expert help from The MailboxWorks, you not only are interacting with a thriving retailer that has been helping people like you since 1989, you also gain the confidence you need for your project, since you know you are ordering exactly what you need.

To reach the mailbox experts at The Mailboxworks, you can call them toll-free at 1-866-717-4943.

Tags: 4C Mailboxes


Categorised in: Commercial Mailboxes