Types of Apartment Mailboxes
We offer a great selection of cluster box unit apartment mailboxes for sale online, for commercial and residential apartment use. Our inventory includes:
Vertical Apartment Mailboxes – from 3 – 7 doors wide for smaller apartment buildings
Pedestal CBU Mailboxes – from 8 – 16 door with parcel lockers, mail collection boxes and key keepers
4C Apartment Mailboxes
If your project is an apartment or condo complex, or any type of residential or commercial multi-tenant building that requires a centralized mail distribution center with multi-unit mailboxes, check out our line of USPS approved apartment mailboxes for sale here at MailboxWorks.
Vertical Apartment Mailboxes
Available with standard USPS doors, vertical mailboxes are less common today but still often used in smaller multi-unit apartment and condo complexes.
These vertical mailboxes by Auth Florence Manufacturing are very secure and feature tamper-resistant master doors with strong compartment locks. Florence vertical apartment mailboxes are available with 3, 4, 5, 6, or 7 vertical doors and can be mounted in two ways:
The MailboxWorks also carries engraved address tags for vertical mailboxes.
CBU Pedestal Mailboxes
USPS approved, and designed and manufactured by Auth Florence Manufacturing, North America's leading supplier of secure residential and commercial mailboxes, CBU apartment mailboxes for sale are highly secure, locking pedestal mailboxes that meet or exceed USPS standards. They are ideal for indoor or outdoor centralized mail delivery.
Along with installation in multi-family residential complexes, apartments, and condos, CBU apartment cluster box units are also commonly found in business and industrial complexes that require multi-unit apartment mailbox systems. CBU apartment mailboxes are installed with a Postal Master lock for USPS mail delivery.
4C Apartment Mailboxes
According to the United States Postal Service (USPS) STD-4C regulation requirements, it is mandatory for all new commercial construction requiring centralized USPS mail delivery, plus any commercial building or multi-tenant apartment complex undergoing major renovations (that have centralized USPS mail delivery) to install 4C horizontal mailboxes.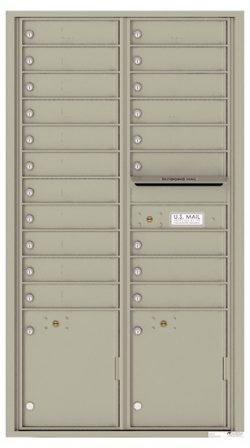 4C multi-tenant mailboxes by Auth Florence Manufacturing are USPS approved and meet height and postal carrier accessibility requirements. They can also be utilized for private mail distribution in places like college and university mailrooms or some office situations.
All USPS approved Florence 4C apartment mailboxes for sale are manufactured with a modular design so centralized mail distribution centers can easily be configured for virtually any project to accommodate various resident box sizes as well as parcel lockers and outgoing mail drop boxes. Even the mailbox compartment sizes are modular so individual mailboxes can be customized in numerous door sizes.
Need Help Ordering Mailboxes?
The MailboxWorks can help you find the right apartment mailbox system for your project regardless of the number of tenant mailboxes you need or the mounting or mail distribution method you require.
If you need help with your apartment mailbox layout or still have questions about any of our apartment mailboxes for sale, you can talk to our mailbox professionals at any time. Call us Toll-Free at 1-866-717-4943 or complete our online mailbox contact form.
---
Customers who trusted us with their projects: