Original Keystone Mailbox and Standard Post Package
Order Placed
Processing Time
Order Shipped
Transit Time
Delivery
Learn more about our estimated shipping and lead times
The lead times listed on this product page represent the best-case scenario for shipping estimates. While we may show that a product "usually ships" within a given period, this period should not be confused with a delivery estimate. Rather, we expect the product to ship from the manufacturer's warehouse within this time-frame.
What does this mean for you? Once you place an order on our site, we begin processing the order with the manufacturer. The processing lead time we list on the product page is the most current estimate from the manufacturer regarding the product.
Note
If you purchase a commercial mailbox from us and decide to cancel because a competitor lists a "faster" lead time on their site, you may be delaying the time it will take to receive your mailboxes.
Why? Because you are placing a new order to be sent to the same manufacturer for processing.
FAQs
How long will it take to receive my commercial mailbox?
When you order a commercial or cluster mailbox, we process the order with the manufacturer within 1 business day. Once processed, the order usually ships in the time-frame listed on the product page. Since Cluster Mailboxes are large items, they ship via freight carriers. This means that the transit times for these will usually be 5 to 7 business days.
A few things to note about purchasing a cluster mailbox or similar large, commercial-grade product:
The freight carrier will call the number you list on the shipping address a day before delivery to schedule a delivery appointment with you.
The manufacturer ships using their chosen freight carrier depending on the products ordered and the delivery location.
The majority of online retailers who sell commercial mailboxes (CBUs, etc.) ship directly from the manufacturers, just as we do.
If you choose professional mailbox installation with your commercial mailbox purchase, please note that same-day installation is not available. Installation will be scheduled after the delivery of your mailbox. In most cases, installation is completed within one week following delivery.
What if I order multiple products from different brands?
If you ordered multiple products, it is possible that they are made by different manufacturers. If this is the case, your products will ship to you separately from each manufacturer.
For example, if you purchase a Mayne Post with a Whitehall Mailbox, your post will ship from Mayne's warehouse in about 3 business days, but your mailbox will ship separately from Whitehall in about 2 to 3 weeks if customized with address numbers.
How can I estimate my shipment's transit time?
Depending on the carrier and your location, transit times will vary. Delivery estimates are best projected using your carrier tracking number. Once your order ships, we'll send you a shipping confirmation email that includes your carrier (FedEx, UPS, YRC, etc.) and tracking number.
Note
If you place an order with us and do not receive an Order Confirmation email, check your spam inbox. If you still do not see an Order Confirmation email in your inbox, contact us right away at (866) 717-4943 . We will provide you with your Order Number and any other details you need.
Finishes and Accents
Black with Satin Nickel Accents
GMMKS25A-BLS and GMPKSP-BL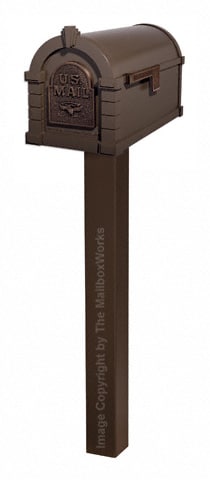 Metallic Bronze with Antique Bronze Accents
GMMKS20A-MBZ and GMPKSP-MB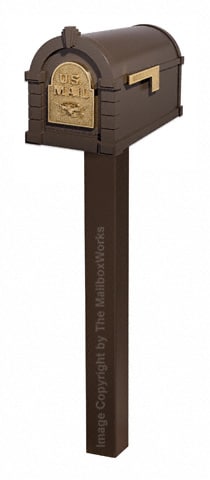 Metallic Bronze with Polished Brass Accents
GMMKS4A-MBB and GMPKSP-MB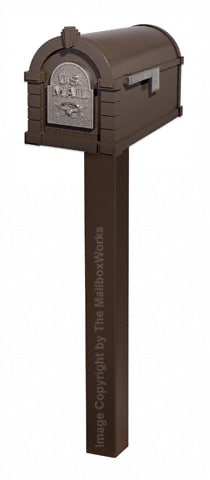 Metallic Bronze with Satin Nickel Accents
GMMKS24A-MBS and GMPKSP-MB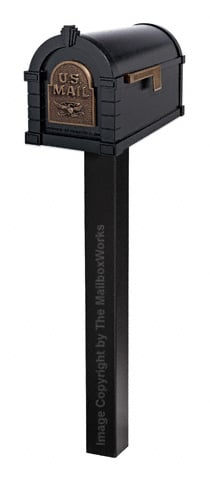 Black with Antique Bronze Accents
GMMKS21A-BLZ and GMPKSP-BL
Black with Polished Brass Accents
GMMKS7A-BLB and GMPKSP-BL
Black with Black Accents
GMMKS19A-BL and GMPKSP-BL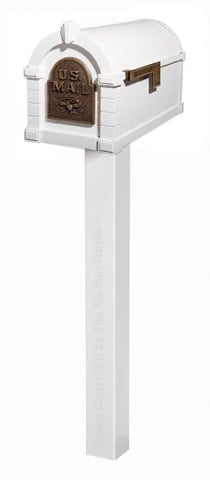 White with Antique Bronze Accents
GMMKS22A-WHZ and GMPKSP-WH
White with Polished Brass Accents
GMMKS1A-WHB and GMPKSP-WH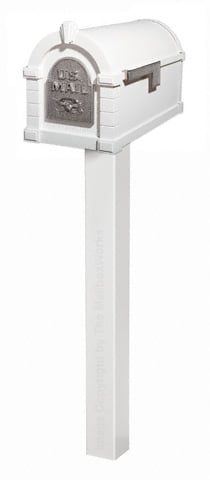 White with Satin Nickel Accents
GMMKS23A-WHS and GMPKSP-WH
White with White Accents
GMMKS15A-WH and GMPKSP-WH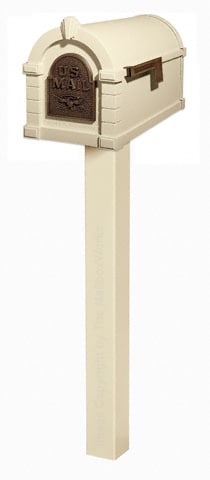 Almond with Antique Bronze Accents
GMMKS26A-AMZ and GMPKSP-AM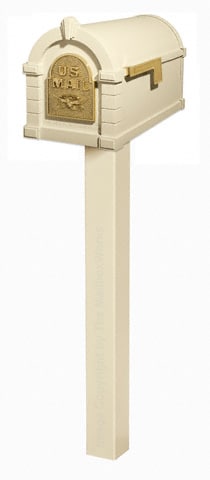 Almond with Polished Brass Accents
GMMKS3A-AMB and GMPKSP-AM
Swipe left or right.
Product Options
Back
Gaines Keystone Side Address Lettering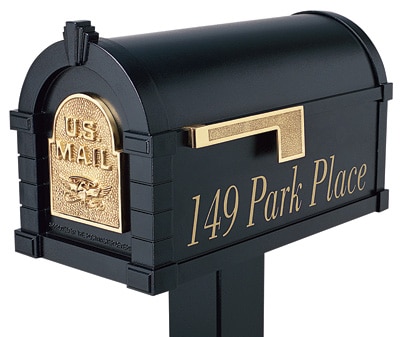 Gaines Keystone Standard Post Address Plaque
Gaines Keystone Mailboxes Lettering Color
Gaines Keystone Post Cuff
Gaines Keystone Mailboxes Locking Insert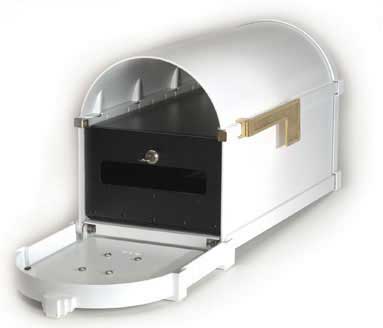 Product Details
The Gaines Keystone, shown in black with satin nickel on standard post with address plaque, is one of our best selling mailboxes
Constructed of cast aluminum so it will never rust
Covered with a powder coat paint finish making it virtually maintenance free
Available in several color options and complimented by different accents
Finding a unique mailbox for you home is easy with all the combinations available
The flag and door accents are made of solid brass or nickel
Replacement locking inserts are also available for your keystone mailbox
Customize your mailbox with your address on the side or on an address plaque in an outdoor grade vinyl
Add a decorative cuff for that finishing touch
Dimensions
| Item | Height (inches) | Width (inches) | Depth (inches) |
| --- | --- | --- | --- |
| Mailbox | 12.25" | 10.375" | 20.125" |
| Post | 54" | 4" | 4" |
Details
Mailbox Item Number:

GMMKS

Post Item Number:

GMPKSP

Includes:

Mailbox, Post, Assembly Hardware

Manufacturer:

Gaines Manufacturing

Shipping Weight:

41 lbs.

Locking:

Non-locking mailbox.