Whitehall Mailboxes Celebrating 70 Years of Providing Residential Mailboxes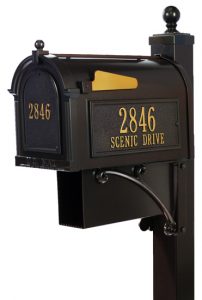 Located at the north end of White Lake along the sandy western shore of Lake Michigan is The MailboxWork's Whitehall Mailboxes manufacturer. Launched in 1941 by a master wood carver who sought to reproduce his best sculptures in metal, Whitehall residential mailboxes offer a gracefully detailed carved look in a high quality metal cast finish.
The MailboxWork's Whitehall residential mailboxes make a great first impression for your home and bring instant curb appeal upon installation. These Residential Mailboxes are available as wall mount mailboxes or post mount mailboxes.
Both Whitehall wall mount residential mailboxes and Whitehall post mount residential mailboxes are renowned for their extra large capacity, which can hold over 20% more than regular size residential mailboxes. The extra capacity allows the homeowner to be away for extended periods of time, as these residential mailboxes will hold multiple days' worth of mail as well as larger packages. And both residential mailboxes are well known for their extraordinary durability. Why? Whitehall residential mailboxes are manufactured from die cast rust-free aluminum and are designed and built to last a lifetime.
Each residential mailbox begins with an artist's rendering, which is transformed into an original pattern to create a perfect replica of the artist's intention in stunning powder coated aluminum. To protect the finish during shipping, each residential mailbox is custom heat sealed in plastic film and tracked from our dock to your door.
The Whitehall wall mount is designed to accommodate up to two lines of address information to specifically identify your residential mailbox and is available in three finishes: French bronze, White, and Black.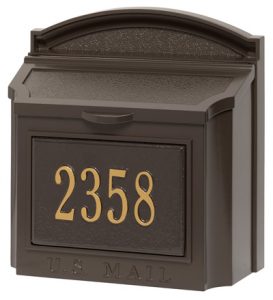 The Whitehall post mounted residential mailbox is available as a mailbox only or in three post-mounted packages:
Whitehall Premium Mailbox Package
Whitehall Superior Mailbox Package
Whitehall Ultimate Mailbox Package
All three residential mailbox packages include the residential streetside mailbox and personalized side panels.

The premium residential mailbox package includes a 4" square by 40" tall standard post that allows the mailbox to be mounted in the center of the post while both the superior and ultimate packages include a 4" square by 54" tall deluxe post that cantilevers the mailbox out from the post towards the street with decorative post brackets.

The Whitehall superior mailbox package includes a post cap while the Whitehall ultimate mailbox package includes a post finial for an even more elegant look. The Whitehall ultimate mailbox package also includes a newspaper box beneath the residential mailbox, a personalized door panel so the mail carrier can be assured of the right delivery, and even a personalized topper that can be adorned with your name. All three residential mailbox packages offer four stunning finishes: French Bronze, Black, White, and Green.

Tags: post mount mailboxes, Wall Mount Mailboxes


Categorised in: Residential Mailboxes