Florence Vertical Mailbox Replacement Information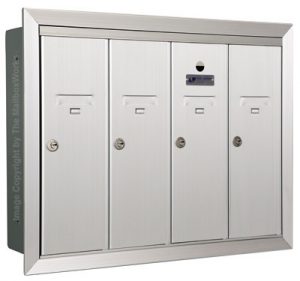 Florence vertical mailbox replacement is an ideal option for managers and property developers looking for a low cost, high impact way of increasing tenant retention and updating or replacing their existing old and tired vertical mailboxes during renovations.
Available at The MailboxWorks, Auth Florence vertical mailboxes are USPS approved 4B+ compliant, as long as they are replacing vertical mailboxes in an existing wall opening that is not being changed or updated during the renovation.
Vertical Mailbox Replacement Features
Unlike many other commercial mailboxes, Auth Florence vertical mailboxes feature large, 539 cubic square inch tenant mailbox compartments capable of holding several days' worth of mail delivery.
And Auth Florence vertical mailboxes are constructed of heavy-gauge extruded aluminum, which is striated to resist scratching. They are also anodized at the factory to ensure a "never-fade" resistance to sun-damage.
Designed for installation in an interior wall, these recessed vertical mailbox replacement options are available in up to nine different finishes including the standard, quick-ship anodized, striated aluminum finish. The other eight powder coat finishes include black, white, sandstone, antique bronze, dark bronze, silver speck, gold speck, and postal grey.
Florence vertical mailbox replacement mailboxes also feature a door slot for mailbox name and door number cards so that whenever old tenants move out and new tenants move in, their names can easily be switched out on their mailbox.
Order Florence vertical mailboxes in a 3-door, 4-door, 5-door, 6-door, or 7-door vertical mailbox configuration. The MailboxWorks provides discounts on quantity purchases so larger configurations can still be possible within your budget.
Add a Florence Collection Box
In addition, Auth Florence also has a collection box unit available in the same height as the vertical mailboxes. The Auth Florence collection box is also available in the same finishes as the Florence vertical mailboxes.
This useful option provides a great convenience for tenants, allowing them to drop off their outgoing mail through a large mail slot that provides excellent security until the mail carrier arrives.
Mailbox Security Kits
A USPS 4B+ mailbox security kit is a standard key feature on all vertical mailbox replacement mailboxes. This security feature significantly improves the strength of the master door. Two mechanisms for securing the master door are available. Vertical mailbox units can be:
Equipped with a private lock with two keys
Or prepped for a postal service lock
Recessed & Surface Mount Options
For commercial mailbox installations where the vertical mailboxes cannot be recessed, The MailboxWorks also offers a vertical mailbox surface mounting kit so the mailboxes can be mounted directly to the wall rather than recessed inside the wall.

Questions? Please contact The MailboxWorks at 1-866-717-4943 or send us an email to learn more about purchasing and installing Florence vertical mailboxes for replacement purposes.

Tags: 4C Mailboxes, Installation & Upgrades


Categorised in: DIY Mailbox Installation & Upgrades