The Versatility of USPS Approved Florence 4C Mailbox Suites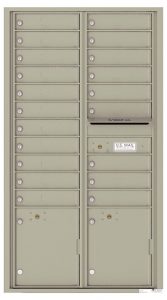 While The MailboxWork's Florence 4C mailboxes are renowned for their easy-to-install, pre-configured groups of tenant mailboxes, there are many instances where an application may require a more customized commercial mailbox solution.
For these challenges, The MailboxWorks suggests its highly configurable Florence 4C Versatile mailbox suites.
UPDATE: 4C Pedestal Mailboxes have been discontinued as of November 30, 2020. The USPS Cluster Box Unit (CBU) Mailbox is now the standard for all multi-family mail delivery.
USPS STD-4C Mailboxes
Like the typical Florence 4C commercial mailboxes, the Versatile 4C mailbox suites are USPS approved and meet or exceed all security requirements for USPS STD-4C mailboxes.
However, these 4C Versatile mailboxes go beyond the two hundred and sixty-two different individual modules available in the standard 4C mailboxes. These are more versatile 4C mailbox suites, living up to their name and providing a new configurable option that can apply to each of these two hundred and sixty-two-plus individual tenant mailboxes.
Customizable 4C Mailboxes
These Versatile 4C mailboxes provide excellent accommodation for creating customized tenant mailbox compartment sizes.
For example, one can now replace single-tenant mailbox doors with double, triple, quadruple, or even quintuple-sized tenant compartment doors.  And regardless of the customization chosen, the resulting versatile 4C mailboxes remain USPS approved.
And this customization, in a culture of internet shopping, can greatly enhance tenant satisfaction by providing enough space for their incoming mail and packages.
Tenant mailbox door sizes can be selected in five available sizes from 3 ¼" high to 17 ¼" high, which means endless 4C mailboxes module options. In addition, customized mailbox door slots for 4C mailboxes can also be specified.
While these mailbox door slot options are not USPS approved for mail delivery, they do provide significant assistance in collecting tenant rent checks, DVDs, books, and other such deliverable items.
Configuring 4C Mailboxes
Of course, one of the most significant challenges in dealing with endless options like the Versatile 4C mailboxes provides is that of actually configuring what one's mailbox application requires.
Thankfully, experts at The MailboxWorks, the nation's leading retailer of 4C mailboxes, are just a phone call away at 1-866-717-4943.
4C Mailbox Experts
Every day, MailboxWorks' 4C mailbox specialists help architects, developers, university purchasing agents, apartment managers, and the like, by creating a customized mailbox solution that perfectly addresses their specific needs for 4C commercial mailboxes.

Plus, not only do the mailbox experts at The MailboxWorks find the most effective solution to your 4C mailboxes application, they also provide the most efficient mailbox solutions.

Give the experts at The MailboxWorks a call today at 1-866-717-4943 about your specific 4C mailboxes application.

The MailboxWorks knows the right questions to ask you.  And once they discover what you need, they'll not only provide you with an economical quote, but they'll also provide you with a set of complementary mechanical drawings for your specific mailbox application.

Tags: 4C Mailboxes


Categorised in: Commercial Mailboxes