The Three Types of Built In Mailboxes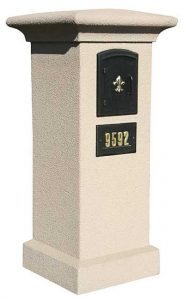 Custom built in mailboxes are some of the most personalized and decorative of possible large mailbox options.
A large built in column mailbox is designed to be recessed into an exterior column. Large built in wall mailboxes are designed to be recessed into wall. Both are available at The MailboxWorks and are quite separate from the more conventional and smaller post mounted mailboxes or wall mounted mailboxes.
The inset installation for large recessed column mount mailboxes often requires more pre-installation planning but their permanence, as well as their resistance to harsh weather elements, makes built in recessed mailboxes an appealing solution to discerning homeowners.
A built in modern mailbox is available in three design categories oriented around their installation and how one accesses their mail. These three built in mailbox designs include:
Single point front door mailbox access
Both a front door and back door mailbox access
Stand alone mailboxes that come complete with their built in column enclosures
Column Mailboxes with Front Door Access Only
Built in mailboxes with front door access only are the most widely available form of column mailboxes. Front door access recessed mailboxes are designed for applications where the homeowner finds it more convenient to retrieve their mail from the same side of the built in mailbox that the postal carrier used to deliver the mail. These front access, large built in mailboxes are most often installed in exterior walls or column enclosures where all but the mailbox door can be inset into the wall or column.
The locking, Gaines column mount mailbox with "Classic Faceplate" is a stunning example of this type of front door access only built in locking mailbox. Available with a dozen different combinations of finishes and mailbox accents, Gaines column mount mailboxes feature a top incoming mail delivery door and a bottom lockable mailbox access door so you can retrieve your safely kept mail.
Column Mailboxes with Front & Rear Door Access
Built in mailboxes with both front door and back door access are best utilized in applications where retrieving one's mail is most safely achieved by walking up to the rear of the mailbox. These built in column mounted locking mailboxes are most often used along busy streets where they allow homeowners to stand safely on the other side of the built in mailboxes to retrieve their mail.
The "dVault" mailbox column is a large locking mail delivery vault and a prime example of these front and back door access built in mailboxes. dVault mailboxes fit between wall studs or into brick or stucco mailbox columns to ease installation. The dVault built in security mailboxes are available in five mailbox finishes: black, copper vein, gray, sand, and white, and they can also be enhanced with custom lettering to aid in mailbox address identification.
Stand Alone Column Mailboxes with Enclosures
Built in mailboxes that come packaged with built in columns are specifically designed as stand-alone column mailboxes. These large built in mailbox units are similar to built in mailboxes with front door and rear door access in that they do allow both forms of access to mail, but they are distinguished by the fact that these built in column mailboxes come self-contained in the column and thus do not require installation into a wall or separate existing column.

The Ecco 8 Tower mailbox column mount is the preeminent example of built in contemporary column mailboxes that come packaged with a stand-alone column.

Elegantly designed in a Victorian motif, these pedestal mailbox units come ready to use in three stunning finishes: bronze, satin black, and rust brown. Ecco 8 built in column mailboxes are installed by simply bolting them to the ground from inside the floor of the column mailbox unit. As with all large built in column mailboxes, it is advisable to get local postmaster approval before installing these column mailbox enclosures.


Tags: Column Mount Mailboxes


Categorised in: Residential Mailboxes