Three Key Considerations for Installing Outdoor Post Mailboxes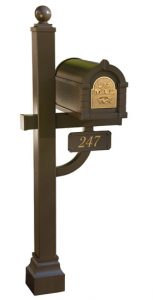 For city dwellers accustomed to receiving their mail in the lobbies of their condominiums or apartment complexes, a move to suburbia or a rural community where one's mail is delivered to curbside residential outdoor mailboxes can be a major change to the way one sends and receives their mail.
In addition, if the change also demands selecting new outdoor post mailboxes for their new suburban or rural home, the sheer lack of experience in this area can be quite daunting.
In this article, the experts at The MailboxWorks will cover the top three basic things to consider when selecting residential outdoor post mailboxes:
Mailbox location
Large outdoor mailboxes (to handle mail volume)
Mailbox Accessories
Post Mount Mailbox Location
First, when selecting residential outdoor mailboxes (also called post mount mailboxes or curbside mailboxes), homeowners should first consider mounting their outdoor post mailboxes in the same location as the previous mailbox.
If this location is not desirable to the homeowner, the experts at The MailboxWorks suggest taking photos of both current and proposed mailbox locations. Then, showing one's local postmaster the proposed mailbox location change to gain their approval.
If one resides in a homeowner's association, it is also advisable to check with your local association to ensure your proposed mailbox location change meets with their approval as well.
Large Outdoor Mailboxes
Second, when selecting outdoor mailboxes for houses one should consider the anticipated or experienced daily mail volume.
For homeowners with a home-based business, or who are on frequent business trips (where their mail may pile up daily), or for those who tend to receive many packages from online retailers, outdoor locking mailboxes, or extra large, secure outdoor mailboxes may be the best choice.
Large outdoor mailboxes like the Gaines Keystone series of outdoor mailboxes, the Mail Boss outdoor mailbox, or Whitehall outdoor mailboxes, are all excellent examples of large capacity, outdoor locking mailboxes that can keep mail secure for days on end.
Post Mount Mailbox Accessories
Third, when selecting post mount outdoor home mailboxes one should also consider grouping other vital mailbox accessories together such as adding your house address numbers and your name identification to the outdoor mailbox.

Identification with mailbox address plaques can be a significant help to your guests as well as emergency first-responders who may need to read your house address numbers from your outdoor mailboxes. This is especially true when lighted home address numbers that are normally displayed are hidden by landscape growth or perhaps simply invisible due to a burned out (or turned off) outdoor light.

Another key mailbox accessory to consider mounting on your outdoor mailbox post is a newspaper box.

Many residential outdoor mailboxes, like the Gaines Keystone and Whitehall outdoor mailboxes, offer a matching newspaper box accessory that mounts beneath the outdoor post mailboxes. An outdoor mailbox newspaper holder allows one's newspaper carrier to simply deliver the newspaper right at your mailbox rather than to an unsightly branded newspaper box that are often no more than advertising collateral for the newspaper company.

Tags: post mount mailboxes


Categorised in: DIY Mailbox Installation & Upgrades