Modern Stainless Steel Wall Mount Mailboxes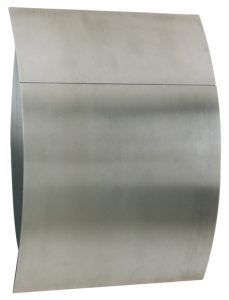 One only needs to walk through the appliance section of a major retailer to discover that stainless steel has become the most desired and appealing finish in our culture today. And while many people have noticed this trend in modern kitchen design, most are unaware that high-quality Stainless Steel Mailboxes are also available, including stainless steel wall-mounted mailboxes for residential delivery.
And the purchase of a quality stainless steel wall mount mailbox is a much better utilization of design dollars than a new fridge since one's mailbox is seen by far more people each day than one's kitchen. In fact, your stainless steel wall mount mailbox could easily be the first design feature that most people encounter when visiting your home.
For those seeking the latest styles among residential Wall Mount Mailboxes, stainless steel is a prominent design choice. Consider the most intriguing Contemporary Stainless Steel Mailboxes at The MailboxWorks, the nation's leading retailer of both residential mailboxes and commercial mailboxes. The MailboxWorks has over two dozen stainless steel wall mount mailboxes available and among them include these four extraordinary mailbox choices:
First, consider the elegant, bold north-to-south curves of the stainless steel Capella Wall Mount Mailbox by The MailboxWork's European Home manufacturer. This Belgium-made Capella mailbox features a satin brushed stainless steel finish applied to a .08″ AISI 316 marine grade stainless steel – an extraordinary high-quality stainless steel. The Capella stainless steel mailbox exclaims modern elegance to your home's guests right at the front door and offers secure mail delivery by use of a locking door feature. It's a luxury wall mount mailbox at a reasonable cost that will last for decades – probably longer than you'll own your home.
Or consider the highly desired Ecco Stainless Steel Wall Mount Mailbox, which features an east-west curve and a mail insertion lid. These Ecco residential mailboxes are available in polished stainless steel or duller brushed stainless steel and can be adorned with a leather address label or steel address label. The design features of the Ecco Wall Mount Mailboxes are abundant: square holes in triple tic-tac-toe fashion above and below the leather or steel label provide more than a nice ascetic – they allow the homeowner to peek out the window or door to visually check whether one's mail has arrived. These beautiful stainless steel wall mount mailboxes are available in a standard (small) or larger size as well as with or without a newspaper holder.

Additionally, one should seriously consider the German-made stainless steel Knobloch LA Locking Wall Mount Mailboxes. These residential mailboxes move away from the curves of the Capella or Ecco residential mailboxes. Instead, it features a hidden hinged access door and clean boxy lines crafted from 2mm thick stainless steel and aluminum. As with the Capella, Knobloch LA wall mount stainless steel mailboxes also offer security for one's mail through the use of locking mechanisms and keys.

Finally, one should take a close look at the stainless steel Bobi Classic Wall Mount Mailboxes or the Bobi Grande wall mount mailboxes (larger version). The Bobi residential stainless steel mailboxes provide a stunning compromise between the hard boxy lines of the Knobloch wall mount mailboxes and the sleek curves of the Capella or Ecco wall mount mailboxes. The Bobi's curves run from side to side, north to south creating a subtler curve and mimicking the large blue mailbox collection receptacles that the US postal service employed in neighborhoods for years. The Finland-made Bobi wall mount stainless steel mailbox features high-quality stainless steel, locking mechanisms, and keys to secure one's mail, and the Grande Bobi will hold up to a week's worth of mail – a stunner in a residential wall mount mailbox design. Plus, due to the fact that Bobi mailboxes are produced by a Finnish family-owned business in low production numbers, it's a sure winner for a unique stainless steel wall mount mailbox.

Tags: Mailbox Style Guides, Metallic Mailboxes, Wall Mount Mailboxes


Categorised in: Residential Mailboxes