How to Choose a Residential Stainless Steel Mailbox for Your Home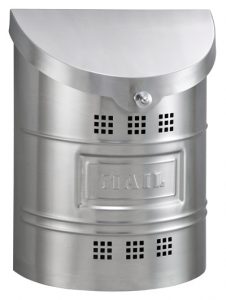 Stainless Steel:  it adorns today's modern kitchens, it accents our automobiles, and it abounds in our jewelry.  Modern architecture, like the Gateway Arch in St. Louis or the Chrysler Building in New York City, prizes its practical and ascetically pleasing features.
Stainless steel's strong resistance to staining and corrosion (normally found in steel and iron materials) means it possesses three key benefits that today's consumers' desire:
Low maintenance
High luster
High strength
And, it follows that these three benefits make stainless steel a perfect material for Residential Mailboxes.
The MailboxWorks, the nation's leading supplier of residential and commercial mailboxes, features an exhaustive line of post mount and wall mount stainless steel mailboxes.  If you're shopping for stainless steel residential mailboxes for your home, this article will serve as a quick and informative guide for your search – just follow these three steps:
Step 1 – The first step in choosing a stainless steel mailbox is to decide whether the need is for Wall Mounted Stainless Steel Mailboxes or post-mounted residential mailboxes.  Stainless steel mailboxes abound in both categories – but you will need to choose what kind of mounting you need before considering any other benefits.  Mounting trumps all other decisions.
Step 2 – Second, because stainless steel lends itself to a wide variety of residential mailbox styles, you will need to consider whether you desire a more traditional, boxy look for your stainless steel residential mailbox or whether you seek clean, flowing European styling.
For example, if looking among post mount mailboxes, the choices vary from the standard boxy look of the Fuoriserie Ecco 3 Mailbox to the Belgium-designed, curved and flowing lines of the Vega Post Mount Mailbox.

If searching for wall-mount mailboxes, the choices range from the popular rectangular styling of the Metropolis Locking Stainless Steel Mailbox to the sleek, European lines of the wall-mounted Capella Stainless Steel Mailbox.

Step 1 – Third, as you seek the perfect stainless steel mailbox for your home, you will need to decide which key features are important to your mailbox decision.  Many stainless steel mailboxes feature locking mechanisms to protect you from mail theft.  Many have slots or cleverly designed holes (also called view windows) on the front of the mailbox to help you identify whether or not your mail has been delivered.   Some are highly unique and produced in low quantity, virtually guaranteeing that no one else in your neighborhood will be sporting a similar mailbox.  You will even discover that the stainless steel material is often available in a variety of finishes and shades or colors.

Start your search at The MailboxWorks;  the nation's leading supplier of stainless steel mailboxes.  You can even view the entire inventory of stainless steel mailboxes on a single web page at Stainless Steel Mailboxes.

Tags: Metallic Mailboxes, post mount mailboxes, Wall Mount Mailboxes


Categorised in: Residential Mailboxes