Novelty Mailboxes: The Novel Gift for the Holidays!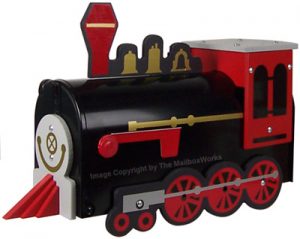 Novelty mailboxes are the perfect gift for that special someone who seems to have everything.
Choosing the perfect novelty mailbox for sale among available post mount mailboxes is easy: consider the personality and hobbies of your special someone and scroll through the mailbox products offered by The MailboxWorks, the nation's largest retailer of novelty mailboxes.
Novelty post mount mailboxes are simple to install and make for an unforgettable gift for the hard-to-shop-for person in your life.
Types of Novelty Mailboxes
For train lovers, you can buy a novelty train mailbox. For golfers, there are mailboxes shaped like a golf cart or golf bag.
Whether that special someone likes planes, trains or automobiles; whether they are dog-lovers, bird-watchers, or yes, even pig admirers or rooster-rooters, The MailboxWork's line of novelty mailboxes has your perfect gift.
Imagine the surprise on the face of your friend or family member when they open your gift and feast their eyes on a mailbox in the shape of a fire engine, sailboat, or civil war cannon.
Whatever sport or hobby, or pet your recipient enjoys, it is highly likely you'll find the perfect novelty mailbox among the lineup of post mount mailboxes at The MailboxWorks.
Your unique "novelty mailbox" gift will be the gift that everyone remembers not only because it's a thoughtful gift but also because it'll be at the curb, greeting everyone as they visit.  Novelty mailboxes are gifts that ignite conversations for years to come. And for popular novelty mailboxes, the choices are myriad.
Novelty Fish Mailboxes
If your special someone loves fishing, you can choose a novelty fish mailbox from fifteen different fishing-themed novelty mailboxes offered at The MailboxWorks.
Choose the kind of fish or fishing lure that's a perfect fit for your friend or family member.  You'll find aquatic-themed novelty mailboxes in the shape of:
Firetiger Fishing Lure            Baby Bass Lure
Orca Whale                          Manatee
Dolphin                               Shark
Crocodile                            Sea Turtle
You'll also find whale novelty mailboxes and 2 types of bass fish mailboxes plus 2 types of catfish mailboxes!
Novelty Bird Mailboxes
Perhaps your friend or family member loves birds. Consider all the novelty mailboxes designed especially for bird lovers. The MailboxWorks carries a wide variety of novelty bird mailboxes, from toucan and hummingbird mailboxes, to post mount mailboxes shaped like flamingos, parrots, pelicans, roosters, ducks, swans, and more.
Custom Novelty Mailboxes
And if the novelty mailboxes at The MailboxWorks don't seem like a perfect fit for your gift, you can send in a photo of the exact pet, animal, hobby, or person to The MailboxWorks, and the professionals at this leading retailer will create a one-of-a-kind custom novelty mailbox with the photo that you want to be applied right to the mailbox.

Novelty mailboxes are artisan designer gifts with eye-catching craftsmanship and details that are sure to make your gift recipient smile this holiday season.  It's a gift that everyone will remember year after year.

Check out our Unique Mailboxes here for more gift ideas!

Tags: Mailbox Style Guides, post mount mailboxes


Categorised in: Design Inspiration & Gift Ideas