The Stunning Look of Nickel Finished Mailboxes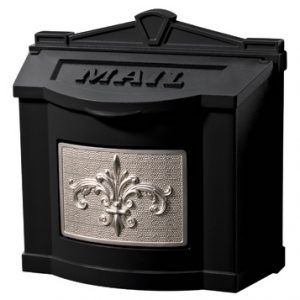 Satin nickel plated mailboxes and brushed nickel mailboxes epitomize one of the strongest demands in consumer décor trends in the last three years and that's the desire for nickel finishes both inside and outside the home.
The understated, less ostentatious nickel finish signals high quality elegance without dating the appliance (or home decor item) with the older gold finishes that were so popular a few decades ago. To meet this demand for satin nickel plated mailboxes and brushed nickel mailboxes, The MailboxWorks, the nation's largest retailer of Residential Mailboxes, provides homeowners with a complete line of post mount and wall mount Nickel Mailboxes.
Wall Mount Nickel Mailboxes
For homeowners seeking a complete nickel finish, The MailboxWorks line of wall mount mailboxes provides four distinctive nickel mailboxes from which to choose:
Ecco 4 Series Nickel Mailboxes – These modern looking wall mount mailboxes are constructed of 18 gauge brass material and plated with real nickel to a stunning satin finish.
Ecco 7 Nickel Mailboxes – These are also constructed of 18 gauge brass and plated with a satin nickel finish.
Peninsula Locking Nickel Mailboxes – These wall mount residential mailboxes are crafted from 14 pounds of copper alloy and finished with a stunning satin nickel exterior.
Embossed Peninsula Locking Nickel Mailboxes – This is the same Peninsula model but with an embossed design.
All four residential wall mount nickel mailboxes utilize nickel as the primary and sole mailbox finish.
Wall Mount Mailboxes with Nickel Accents
For homeowners looking for wall mount nickel mailboxes that feature nickel as an accent, MailboxWorks' line of Gaines wall mount mailboxes are a perfect choice. Gaines wall mount mailboxes feature a black, bronze, or white mailbox body with a nickel-plated accent (available in a French Fleur De Lis, a Maple Leaf, or an American Eagle design). These residential wall mount mailboxes with nickel accents provide a more understated use of the nickel accent that is highly pleasing to the discerning eye.
Post Mount Nickel Mailboxes
For homeowners seeking curbside nickel mailboxes there are several residential post mount mailboxes that feature key accents in nickel. There are three very popular choices among available post mount nickel mailboxes.

The first is the Gaines Keystone nickel mailbox that utilize a nickel accent on its original Keystone with American Eagle accent. The second is the Fleur De Lis Series Keystone and the third is the Signature Series Keystone mailbox model featuring the accented words "U.S. Mail." The nickel-accented door with eagle, fleur de lis, or U.S. Mail design is available at no additional cost with the black, white, or bronze mailbox bodies.

In addition to the Gaines Keystone nickel mailboxes, The MailboxWorks Architectural Mailboxes Coronado nickel mailboxes also utilizes nickel as a key design feature. Used to outline the mailbox door, door pull, and mailbox flag, Coronado nickel mailboxes feature black, bronze, white, and sand body colors with nickel accents. The resulting look, regardless of mailbox body color, is one of understated elegance that is highly attractive.

Finally, Architectural Mailboxes Bellevue post mount mailboxes also feature a nickel accent door outline, door pull, and mailbox flag although the official color selection is noted as platinum. The Bellevue nickel (aka "platinum" finish) is available with a white or bronze Bellevue mailbox body.

Tags: Mailbox Style Guides, Metallic Mailboxes, post mount mailboxes, Wall Mount Mailboxes


Categorised in: Design Inspiration & Gift Ideas