The Subtle Elegance of Nickel Mailboxes
As an element on the periodic table, nickel's atomic number is twenty-eight. As a finish on a residential mailbox however, nickel is luxury number one.
If you are a homeowner looking for the widest array of options in a nickel mailbox, The MailboxWorks is America's top online mailbox supplier with over twenty-one different elegant selections ranging from the economical Peninsula mailbox, a locking satin finish wall mount mailbox, to the ultra-luxury Gaines Classic mailbox, a locking mailbox with satin nickel accents upon the post, mailbox doors, flag, and finial.
As the trends indicate, nickel is today's top choice for residential professional decorators and many homeowners are quickly adopting this versatile finish for both indoor and outdoor accessories in the home. Of course, one popular place to display a beautiful nickel finish is with your residential mailbox.
If you are looking to update or simply replace a dated wall mount mailbox with a polished, satin or brushed nickel mailbox, The MailboxWorks offers eight varieties amongst three major brand choices:
The 4, 5 or 7 series of Ecco nickel wall mount mailboxes
Peninsula locking nickel wall mount mailbox (with or without the embossed front door panel)
Gaines wall mount mailbox with nickel accents in a choice of Eagle, Maple Leaf, or Fleur De Lis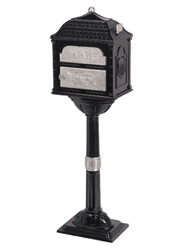 If your choice is a post mount residential mailbox with a nickel finish or accent, The MailboxWorks offers four major selections (with a wide variety of choices within these brands):
The Original Keystone mailbox with choice of nickel accent door in Eagle, Maple Leaf, or Fleur De Lis (available with or without standard or deluxe post or double deluxe posts)
The Gaines Keystone Signature mailbox with nickel accents across the front door (available with or without standard, deluxe, or double deluxe posts)
The Coronado decorative post mount mailbox with nickel accents
The Gaines Classic pedestal mailbox with nickel accents
A major decision point that you as a homeowner will need to sort through is whether you want a nickel finish mailbox or a residential mailbox just with nickel accents.

For those seeking a full nickel finish mailbox, the Ecco 4, 5, and 7 series wall mount mailboxes are excellent choices as they offer a complete nickel finish throughout the entire mailbox design. Additionally, both the Peninsula locking and Peninsula embossed wall mount mailboxes also offer a complete wrap-around nickel finish.

For homeowners seeking a mailbox with select nickel accents The MailboxWorks offers a number of very attractive choices in both post mount mailboxes and wall mount mailboxes.

For example, Gaines Keystone offers nickel finishes in both their Signature Keystone line as well as their Original Keystone mailbox series.

In addition, the Coronado Decorative post mount mailbox also offers a very attractive design with nickel accents around the mailbox door and upon the flag and door pull.

Along with post mount and wall mount mailboxes, The MailboxWorks also carries the locking Gaines Classic nickel faceplate mailbox in four major color choices including white, almond, black, and metallic bronze to augment the nickel finish.

To learn more about our selection of nickel mailboxes or if you need help with your order, please contact us online or call our mailbox experts toll free at 1-866-717-4943. We also carry a full line of stainless steel mailboxes, which can be viewed here.

Tags: Metallic Mailboxes, post mount mailboxes, Wall Mount Mailboxes


Categorised in: Design Inspiration & Gift Ideas