Discover Today's Evocative Modern Mailbox Designs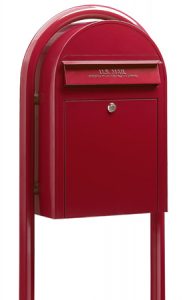 For design-savvy residents looking to punctuate the architectural look of their home, a modern residential mailbox by The MailboxWorks can provide a ready exclamation point.
Yes, not every homeowner is content with a mere utilitarian residential mailbox. So, for homeowners looking for an uber-trendy experience in retrieving their daily mail, a modern mailbox will fit the bill.
In this article, we'll explore the three facets dominating the brilliance of today's modern mailboxes at The MailboxWorks including:
Mailbox purpose
Mailbox finish
Mailbox style
What Will Your Modern Mailbox Be Used For?
The first facet to consider when researching today's modern mailboxes is the mailbox purpose.
After all, regardless of how your new modern mailbox will look, it must fulfill its purpose as a receptacle for your mail and package delivery. Even the signal flag to let the postal carrier know there is outgoing mail can be a part of the modern mailbox design.
Today's new modern mailboxes also add innovative design features such as:
Larger receptacle containers to hold several days of mail and packages
Mailbox security features designed to thwart identity and mail theft
And even options for accessing the modern mailbox from both the front and the rear of the mailbox (to enhance the convenience and safety of retrieving one's mail)
One of the most outstanding modern mailbox designs touting either front or rear mail access is produced in a beautiful Finnish town: the Bobi Classic Post Mount Mailbox.
This Baltic beauty boasts unmatched curb appeal as many modern mailboxes do, but the real impact of the Bobi Classic modern mailbox is that the functions are designed with the highest quality materials (made to last in even the brutal winter conditions of the Artic).
What Finish Do You Want Your Modern Mailbox to Have?
The second facet of today's modern mailbox design is the mailbox finish.
In decades past, most residents never considered any finish beyond the basic black mailbox. Everywhere one looked, black mailboxes dotted the landscape with no more appeal than one's telephone pole.
While a modern black mailbox is still a beautiful mailbox finish, today's modern residential mailboxes have brought a wide array of color choices and exterior body finishes.
The modern Ecco 4 mailboxes are a leading example of contemporary color finishes in modern mailboxes. Touting pewter black, satin nickel, copper, bronze, and even more traditional finishes like antique copper and brass, Ecco 4 mailboxes are tasteful choices among modern wall mount mailboxes.
For residents looking to make even bolder choices with color, the Bobi Classic described above comes in five finishes including a stunning red and eye-catching stainless steel.
For those seeking a more colorful modern wall mount mailbox, The MailboxWork's Knobloch comes in a Hollywood Red finish that is sure to get a second look from your home's guests.
What Style of Modern Mailbox Will Suit You Best?
The final and third facet adorning today's modern residential mailbox design is mailbox style.

While most residential mailboxes simply blend into one's property and community, a stylish modern mailbox design stands out as unique, innovative and literally attractive.

Most modern aluminum mailboxes feature smooth sleek surfaces that when it comes to style are completely devoid of busy design elements.

As with all modern design, one's eye is attracted not to any single design element of the modern mailbox but rather to the whole, entire "look."

Consider The MailboxWork's European Home Capella modern mailbox design. This Belgium-designed modern wall mount mailbox not only has unique purpose elements and stainless steel finishes it is unmistakably stylish in a minimalistic manner.

Tags: Mailbox Style Guides


Categorised in: Design Inspiration & Gift Ideas