The Top Three Luxury Residential Mailboxes of 2011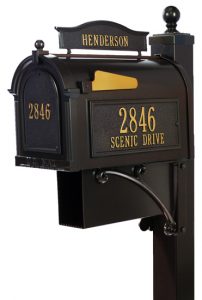 Far and beyond the ordinary black box residential mailboxes perched on a single post along the rural roadways, these three luxury residential mailboxes are the crème-de-la-crème for the discerning homeowner.  Selected by the nation's leading residential mailbox purveyor, The MailboxWorks, these residential mailboxes have been carefully chosen for their superior materials, design, and craftsmanship. Luxury Mailboxes communicate fine taste, love of beauty, and discriminating preferences in home necessities.
#3         The post mount European Home Vega Mailbox is a large capacity luxury mailbox designed for homeowners seeking the absolute best in modern mailbox design.  Either mounted directly on one's wall or rising from the surface on dual matching stainless steel posts, this stain brushed stainless steel residential mailbox catches the light and draws the eye with its sweeping curves and clean lines.
Crafted of marine grade stainless steel that exudes high quality craftsmanship from every angle, the Vega mailbox is a study in contrasts:  bold stainless steel modern design and soft voluptuous curves.
Unlike other Residential Mailboxes, the Vega's fit and finish is completely devoid of any rivets.  By eliminating the typical riveted joining points and by creating seamless joints with the robust stainless steel sheeting, this Belgium-crafted residential mailbox feels strong, elegant, and smooth to the touch.  By eliminating the rivets, the Vega Mailbox ensures the discerning buyer a residential mailbox that not only looks elegant in design but also withstands the elements no matter how hard they come.  In addition, the Vega features a top-notch anti-theft locking mechanism that thwarts malicious attempts and provides the homeowner with a strong sense of security and peace of mind.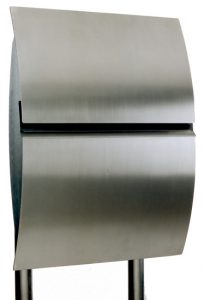 #2         Are you looking for a residential mailbox that arrives with a fine weathered finish?  The handmade post mount Waterglass Studios Copper Mailbox is a subtle beacon of old world craftsmanship among residential mailboxes today.  Hand crafted on the pinnacle of the Victoria, British Columbia peninsula, these residential mailboxes are constructed of stout copper sheeting, and then carefully hand burnished by artisans and purposely oxidized to create an elegant weathered finish.

Favored among homeowners who are seeking a residential mailbox that will complement their investment in outdoor landscaping or the natural outcroppings of rocks and forest environments, these handmade mailboxes sport unique finishes that, like the very nature that frames them, continues to deepen and change with the passing of time.

A favorite designer among the nation's top architects, this handcrafted British Columbia residential mailbox features an angular rustic roofline that extends beyond the soaring sides of this residential mailbox and a fit and finish that will bring a sense of pride and satisfaction with every trip to your mailbox.   It is also available with a high quality cedar mailbox post that will provide years of sturdy enjoyment.

#1         A perennial favorite among the most discriminating of homeowners, the Whitehall Ultimate Mailbox Package provides a well-dressed traditional first impression at an excellent price point for luxury residential mailboxes.  Featuring an oversized mailbox receptacle crafted in die-cast rust-free aluminum and designed to weather the elements, this post mount mailbox provides the ultimate in personalized customization among residential mailboxes.  Homeowners can create a unique look among the many components available for the myriad options offered in the Whitehall mailbox product line.

Create a unique post by selecting an optional post-topper finial, post cover, decorative post cuff, and scrolling brackets.  Create a personalized mailbox that reflects your home's address on any one or more surfaces including the residential mailbox topper, front panel or side panels.  And provide a convenient and accessible newspaper holder beneath the mailbox to further differentiate your residence's mailbox.

The Whitehall residential mailboxes come in a variety of pre-configured packages to meet a variety of homeowner needs and three distinct finishes to ensure a stunning match between your mailbox and residence.  For homeowners seeking personalization, value, and the look of luxury, the Whitehall post mounted residential mailboxes are the top selling luxury residential mailboxes offered today.

Tags: Mailbox Style Guides, post mount mailboxes


Categorised in: Residential Mailboxes