Keystone Mailboxes: Elegance in Functional Design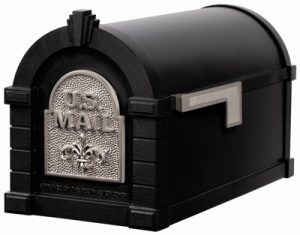 Gaines Keystone Series mailboxes are among the most affordable residential mailboxes available to homeowners seeking to put an exclamation mark on what is often the first impression guests have of their home.
Keystone mailboxes are crafted from cast aluminum and protected by a powder coat paint finish. They are also rust proof and virtually maintenance free. The powder coat finish on keystone mailboxes is available in metallic bronze, black, white and almond.
Distinctive Keystone Mailbox Design
Keystone mailboxes are named for their characteristic wedge-shaped design element featured at the crown of the mailboxes' arched front door. This "keystone design" not only typifies the architectural element of the keystone series mailboxes, but it also functions to open the keystone mailbox door.
As well, this elegant keystone design is enhanced by an Art Deco type treatment at its apex and two symmetrical pillars visually support the entire mailbox door design. These unique pillars beautifully reflect a modern Mediterranean stucco design frequently found in both Californian and Floridian architecture.
The sides of the Keystone mailboxes are designed with two horizontal augmentations. These linear parallels create a frame for the side panels of the mailbox, which is often utilized as the address panel for homeowners who want to customize their Keystone mailboxes with their street name and/or address.
The MailboxWorks also offers customized vinyl labels (with a seven-year guarantee) that match the Keystone mailboxes accents.
Choose Your Keystone Mailbox Door Plaque
When you buy keystone mailboxes, you can also choose the mailbox door plaque design, which is crafted of either solid brass or aluminum, depending on which mailbox door design you select.
Keystone mailbox door plaques are available in three stunning styles:
An American Eagle paired with the words "US Mail"
A French Fleur de Lis paired with the words "US Mail"
A simple script stating "US Mail"
All three keystone mailbox door plaque designs are available in five distinctive finishes: antique bronze, polished brass, satin nickel, black, or white. Additionally, a matching mailbox signal flag in the selected finish complements the door design selection.
Keystone Mailbox Posts, Post Cuffs & Newspaper Holders
Two keystone mailbox post styles are currently available:
A standard mailbox post, where the Keystone mailboxes are mounted on top of the mailbox post
And a deluxe mailbox post that provides a horizontal mounting bar with under-supporting half-arch
Many homeowners specify a residential house number to be placed along the midpoint of the arch. These keystone mailbox address numbers can be as long as six digits.

If you prefer, you can order your new keystone mailbox and post with an open-ended newspaper delivery box instead of the under supporting arch.

An architecturally pleasing mailbox post cuff is also available for both keystone mailbox post styles. The mailbox post cuff serves to bolster the keystone mailbox design as well as to actually function as a way to conceal any concrete overspill or dirt where the post enters the earth.

Finally, for those seeking to secure their mail delivery, Keystone mailboxes are also available with locking mailbox inserts that allow the postal carrier to deliver mail without a key but secure the mail for the homeowner through keyed access.

Tags: post mount mailboxes


Categorised in: Residential Mailboxes