Gaines Residential Mailboxes, Address Plaques & Lawn Markers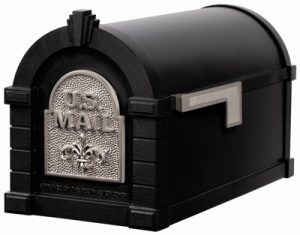 For homeowners seeking a top quality residential mailbox, many find that Gaines mailboxes fit the bill.
Based in sunny Poway, California (near San Diego), The MailboxWorks Gaines Manufacturing mailbox facility produces some of the most stunning post mount and wall mount residential mailboxes in the marketplace today.
And because all Gaines mailboxes are crafted from aircraft-grade aluminum and powder-coated with a rich, weather-resistant paint finish, they will gracefully stand the test of time and provide years of service to those homeowners who employ their use at their residence.
American Made Mailboxes
One of the most outstanding aspects of Gaines Manufacturing mailboxes is their commitment to the extraordinary skill of artisans in the American workforce. Crafted by American workers, Gaines mailboxes are designed to be easy to install and even easier to maintain.
Gaines Multi Mount Mailboxes
Especially popular for residential builders and homeowner associations, Gaines post mount mailboxes are also available in multi mount mailbox configurations so that two Gaines mailboxes can be mounted upon a single post or up to five mounted upon dual posts.
By mounting multiple Gaines mailboxes upon a single or dual post, not only does this option save the postal carrier significant time in delivering mail but also it also significantly reduces the costs of mailbox installation.
One or two posts per many mailboxes are simply a lot less expensive to install than one post per each residential mailbox.
And homeowner's associations will be glad to learn that there is no minimum quantity required when ordering Gaines mailboxes from The MailboxWorks (the nation's leading supplier of multi-mount residential mailboxes).
Gaines Address Plaques & Lawn Markers
For design congruity, Gaines Manufacturing not only makes residential mailboxes but also beautiful address plaques and lawn markers, utilizing the same materials and design aesthetics as their home mailboxes.
From small address plaques to place near Gaines wall mount mailboxes to large lawn markers that augment the estate-style presence of Gaines post mount mailboxes, Gaines address plaques are a wonderful compliment.
Gaines Pedestal Mailboxes
Additionally, Gaines mailboxes also provide a stunning Victorian style pedestal mailbox that can be surface mounted to a concrete surface. In fact, a Gaines pedestal mailbox functions beautifully in a small downtown, pedestrian, or suburban setting.
Gaines Insert Mailboxes
For Gaines post mount mailboxes, an optional locking insert can be added inside the mailbox to thwart mail theft. Easily installed, these locking mailbox inserts provide the peace of mind that comes with safe and secure mail delivery.

Gaines mailboxes are even available in a mailbox insert form that works beautifully for customized column mount mailbox applications such as a brick or stucco mailbox column.

Gaines column mailbox inserts simply slide into the predetermined slot inside the mailbox column to provide years of enjoyment and use.

Tags: Address Plaques & House Numbers, Multi Mount Mailboxes


Categorized in: Residential Mailboxes