A Primer on Florence 1400 Series 4B+ Horizontal Mailboxes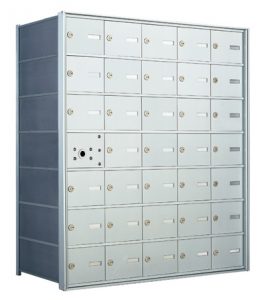 For developers and property managers that are dealing with centralized mail delivery systems and need to replace broken or outdated horizontal mailboxes, their best options are USPS approved, 1400 Series, front loading Florence 4B+ mailboxes with A doors.
Designed specifically for installation as centralized mail delivery for apartment complexes and multi-tenant structures (that are not going through a major renovation), 4B+ horizontal mailboxes are designed to slide directly into the existing rough opening space that the previous horizontal mailbox unit was removed from (as long as major modifications are not needed).
For new construction and major renovations, the USPS requires the installation of 4C horizontal mailboxes instead of the 4B+ mailbox units. See our MailboxWorks article entitled Horizontal Mailboxes Applications.
All developers, architects, and property managers are encouraged to contact their local postmaster to ensure whether 4C or 4B+ horizontal mailboxes are required for their renovation project.
Color Finishes of 4B+ Mailboxes
The MailboxWorks is North America's largest online supplier for commercial mailboxes. They offer developers and property managers the choice of eight additional powder coating finishes that really dress up these 4B+ mailbox units.
Made from anodized aluminum, Florence 1400 series 4B+ horizontal mailboxes are constructed for applications that are best complimented with a different color than aluminum. This makes it easier to match the centralized mail delivery system with the color scheme and décor of apartment lobbies and multi-tenant common spaces.
Available colors for 4B+ horizontal mailboxes include: antique bronze, dark bronze, gold speck, silver speck, postal grey, sandstone, white, and black.
4B+ Mailbox Door Options
Depending on the application, Florence 1400 series 4B+ horizontal mailboxes are also offered in twelve different sizes based on the number of tenant doors required including:
35 door                 30 door                    28 door
25 door                 24 door                    21 door
20 door                 18 door                    15 door
14 door                 12 door                    10 door
The MailboxWorks also offers installation cut-sheets for each size, which are available in PDF format for immediate download.  The cut sheets provide installers with exact product dimensions, as well as recommendations for the rough-cut opening.
Additional 4B+ Mailboxes Features
Every 4B+ horizontal mailbox comes equipped with an easy access master door that provides the postal carrier with quick access to all the tenant mailboxes at the same time.
The master door includes a master arrow lock, which is only accessible by the USPS. The master lock has a latching 5-pin cylinder cam to ensure maximum security and to deter vandals. Each tenant mailbox door also comes with a set of 2 mailbox keys.
4B+ horizontal mailboxes also come with built-in trim to allow for quick installations.  Additionally, The MailboxWorks offers free engraving for tenant door identification numbers or the 4B+ mailboxes can be shipped with the standard clear plastic number decals.
Free Shipping & Bulk Order Discounts
For projects that require more than one horizontal mailbox unit, the product specialists at The MailboxWorks offer significant discounts for quantities of two to five units (and even more significant discounts for quantities of six or more).

Additionally, The MailboxWorks offers free shipping on 4B+ horizontal mailboxes with no taxes for all states except Illinois.

Florence 1400 series 4B+ horizontal mailboxes are made with high quality materials and designed to last, and are backed by Florence Manufacturing's industry stunning five-year product warranty.

If, at any time, you need any 4B+ mailbox replacement parts, contact The MailboxWorks as we not only sell brand new 4B+ mailbox units but also all the horizontal mailboxes replacement parts needed to keep your centralized mail delivery system functioning well and looking great.

If you need assistance or still have questions about Florence 4B+ horizontal mailboxes, please call 1-866-717-4943 or send us an email.

Tags: Auth Florence, Commercial Mailboxes, Horizontal Mailboxes


Categorised in: Apartment Mailboxes, Brands and Manufacturers, Commercial Mailboxes, Horizontal Mailboxes