Fish Mailboxes, Fish Lure Mailboxes: A Wide Variety of Fish Shaped Mailboxes for Today's Angler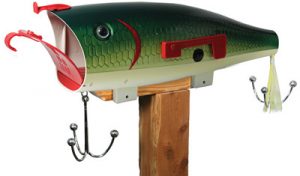 Are you looking for a thoughtful, fun gift to give to the fisherman in your family? While it may be hard to find the perfect rod and reel or lure for your family angler, Fish Shaped Mailboxes are gifts all fishermen would love to get. Buy your fisherman a mailbox designed in the shape of his favorite fish or lure. Fish mailboxes are well received by outdoor enthusiasts. Many people buy these unique mailboxes for themselves! And one reason may be the wide variety of these kinds of mailboxes that are available today.
Thirty years ago, fish mailboxes were crude, woodshop attempts glued together in a high school shop class and passed on from garage sale to garage sale as gag gifts. But today's mailboxes are beautifully crafted works of art. They are made and finished by leading manufacturers.
Baby Bass Lure Mailbox
The MailboxWork's Rivers Edge makes Baby Bass Lure Mailboxes for the Bass Tournament fisherman. This mailbox is made after the famous "money bait" lures used by today's professional fishermen. It is also made from high-impact polyethylene. It is then painted to a near-perfect replica of the much smaller lure. These Baby Bass Lure mailboxes feature two treble hooks that hang from the mouth and tail. The typical red flag still signals that your mail is ready for pickup.
Catfish Mailboxes
In addition to the Baby Bass Lure Mailboxes, The MailboxWork's Rivers Edge also produces Catfish Mailboxes and MailBass Fish Mailboxes. Both the Catfish mailbox and the MailBass mailbox are made from high-impact polyethylene and feature realistic coloring and fins.
The Catfish mailboxes are unique in that they have a highly realistic fish head. The head pulls down like a mailbox door. The MailBass mailboxes are made like Baby Bass Lure mailboxes. They use a wide, largemouth bass opening to receive mail. All MailboxWork's Rivers Edge fish mailboxes and fish lure mailboxes are designed to fit a standard 4" x 4" or 2" x 4" post. They are also supplied with tamper-proof screws to ensure your mailbox remains yours.
Bass Fish Mailboxes
For buyers seeking more subtle colors for their bass fish mailbox, The MailboxWork's More-Than-a-Mailbox Bass Fish Mailboxes are a perfect choice. These bass mailboxes are built with rust-resistant steel and painted with a baked-on enamel finish. The bass mailbox fins, head, and tail are made of Medex. Medex is a wood composite that withstands the elements. This bass mailbox also mounts easily to any standard mailbox post.

If you are not looking for a bass mailbox or catfish mailbox, we have other unique mailboxes also available. All our mailboxes mount easily to standard mailbox posts and withstand the outdoor elements.

Tags: Mailbox Style Guides, post mount mailboxes


Categorised in: Design Inspiration & Gift Ideas