Features & Mailbox Styles to Consider When Purchasing Residential Wall Mount Mailboxes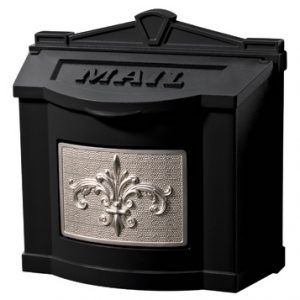 Residential Wall Mount Mailboxes are most often found right next to one's home front door making them an important purchase for homeowners wanting to make a good first impression on guests to their home.
Often considered the simplest style of residential mailbox to install, wall mount mailboxes typically are available with three different features:
Locking (or Non-Locking)
Newspaper Holders
Address Panels
Locking Wall Mount Mailboxes
Locking wall mount mailboxes are gaining in popularity as they allow postal carriers to drop off mail without a key and secure the mail until the homeowner uses their key to retrieve it at their convenience.
Newspaper Holders
Mailbox newspaper holders, available on some wall mount mailboxes, provide a convenient one-stop place for a homeowner to gather both news and mail deliveries.
Address Panels
Mailbox address panels, available on a wide array of wall mount mailboxes, allow guests and postal carriers to ensure they are arriving at the correct home.
5 Wall Mount Mailbox Categories
Once the desired features are determined, one can shop for their perfect wall mount mailbox among five categories of distinctive styles:
Classic Wall Mount Mailboxes
Contemporary Wall Mount Mailboxes (also called modern)
Victorian Wall Mount Mailboxes (also called antique)
Decorative Wall Mount Mailboxes
Stainless Steel Wall Mount Mailboxes
To determine the correct residential mailbox style for your home, consider both the architectural features and materials used in constructing your residence. Then, look among the mailbox style categories that best complement your home's features.
For example, Floridian or Californian stucco exteriors work well with modern, stainless, or classic wall mount mailboxes but typically clash with a Victorian style. Conversely, Midwestern or Southern brick homes look stunning with a classic or Victorian wall mount mailboxes while less so with the modern mailbox styles.
Mailbox Vaults
In addition, mailbox vaults and letter slots also provide a similar functionality to wall mount mailboxes. The mailbox vaults can be recessed into a wall or into a column created specifically for the purpose of mail delivery. Mail slots can be installed into a wall or door – some allowing the mail to simply pass through for homeowner retrieval and others allowing the mail to drop into a locking collection box on the other side of the wall, which provides more security.

Tags: Wall Mount Mailboxes


Categorised in: Residential Mailboxes