22 Dog Themed Mailboxes in 4 Unique Styles
The MailboxWorks, the nation's leading retailer of residential post mount mailboxes, carries twenty-two dog themed mailboxes in four different key styles that are sure to please even the most discerning of dog lovers and owners including:
Copper
Fiberglass
Wood
Or Completely Customized
Dog Themed Copper Mailboxes
The first style of dog mailboxes to consider are hand-embossed in copper plates and mounted upon standard, USPS approved steel post mount mailboxes. Within this copper style are seven Hentzi copper mailboxes, rural post mount mailboxes that feature the following dog motifs:  a black lab with red collar; an English Pointer on point; a running English Setter; a German Shorthaired Pointer on point; a Golden Retriever with red collar; a sitting black Labrador with collar; and a Springer Spaniel flushing a bird.  Additionally, two other dog mailboxes are available in a copper embossed style including the Weaver Black Lab mailbox and the Still River Labrador mailbox.
Fiberglass Mailbox Covers with Dog Themes
Beyond the nine variations of copper dog mailboxes, there are six beautiful Bacova dog mailboxes that are crafted by wrapping a strong, fiberglass decorative panel around a standard steel post mount mailbox. Decorative dog mailboxes offered in the Bacova line include a full bodied Golden Retriever standing near water and cattails; a close-up face of a smiling Golden Retriever; a Black Labrador watching over three Labrador puppies; a trio of Labradors (golden, brown, and black in color); six puppies of various breeds playing with a wooden Mallard decoy and kitchen rolling pin; plus a Black Labrador sitting in golden reeds.
Wooden Dog Mailboxes
Canine fans can also look to wooden dog themed mailboxes, a third choice available from The MailboxWorks that comes in six distinctive novelty dog mailboxes designs. These dog mailboxes are handcrafted from wood to bring a three-dimensional aspect of various breeds to life including: a Black Labrador mailbox; a howling black and white Hound dog mailbox; a smiling Dalmatian mailbox; a brown and white pooch perched atop a mailbox; a dog sitting "Snoopy" style upon a doghouse mailbox (with a cat sitting inside the doghouse); and a cat perched upon a doghouse mailbox with a dog laying inside the mailbox.
Custom Dog Mailbox Options
Finally, one of the most popular choices for dog lovers everywhere is the Custom Photo post mount mailbox. Picture your own furry friend's photo applied directly to your post mount mailbox to share with your neighborhood. In less than sixty seconds, you can upload a photo to the experts at The MailboxWorks, who will produce and email you a proof of your personalized dog themed mailbox for your approval. Once you approve the photo, The MailboxWorks will print your dog photo upon a high-quality, outdoor-grade vinyl, and apply it to both sides of your new dog mailbox.

Whether you're a part of the smaller dog culture found in Naples Florida and Scottsdale Arizona, or the larger dog culture found in Boulder Colorado and Minneapolis Minnesota, many pet owners enjoy celebrating an essential member of their family with this unique home dog accessory to declare their love for their dogs.

And one of the most declarative accessories when it comes to canine loyalty is having a dog mailbox from The MailboxWorks.

Tags: Dog Mailboxes, Novelty Mailboxes, Residential Mailboxes


Categorised in: Novelty and Decorative Mailboxes, Post Mount Mailboxes, Residential Mailboxes
Related Products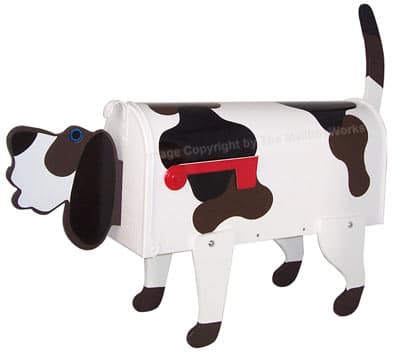 $

98.97
free shipping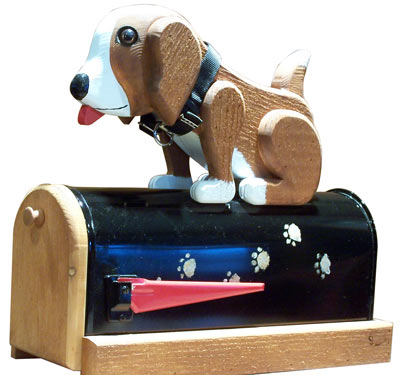 $

327.00
free shipping
$

98.97
free shipping