The Perfect Path to Custom Mailboxes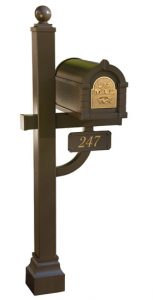 Americans exude style and the home is one of the primary areas that represent one's personal style. Yet most Americans are unaware that one's personal style can extend to their residential curbside mailbox. In fact, Custom Mailboxes provide a significant and distinctive punctuation point to one's personal style for residential décor.
The MailboxWork's line of custom mailboxes allows homeowners from all walks of life to enjoin their personality and their personal style upon one of the home's foremost impressions; the residential mailbox. Whether one chooses to create a custom post mount mailbox such as customizable Keystone Mailboxes and customizable Whitehall Mailboxes or whether one wants a "one-of-a-kind" residential mailbox such as the "Any Photo on a Mailbox", the MailboxWorks can deliver the ultimate in personalization. Consider how fun an invite to your home might be when you give directions such as "Look for the most unique mailbox on the block."
Keystone residential mailboxes are available with either a standard or deluxe post as well as distinct door finishes that set your mailbox apart in the neighborhood. The MailboxWork's custom ordering systems takes the homeowner through nine steps of customization for each Keystone mailbox, virtually ensuring that one's custom mailbox is unlike no other in the neighborhood. The MailboxWork's custom mailbox process begins with a selection from twenty different mailbox and post colors, and moves through:
Door Accent Choices
Mailbox Post Styles
Address Plaque Adornments
Mailbox Address Lettering
Locking Mailbox Insert Options
Mailbox Post Cuffs
And Even Newspaper Boxes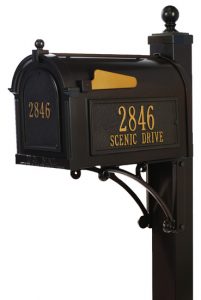 The resulting Keystone residential post mount mailbox is definitely unlike any other.
The MailboxWork's custom ordering system is similar for the Whitehall residential post mount mailboxes allowing homeowners to select the Whitehall mailbox and color plus:
Mailbox Post Style
Post Top
Side Panels
Front Panel
Mailbox Post Cuff & Topper
And Newspaper Box
And again, the resulting Whitehall mailbox is exactly what the homeowner had in mind; a custom mailbox that exudes a personal statement whether collecting one's mail or simply standing as a beacon of personality to welcome guests to the home.
One of the most clever and unique custom mailboxes is the "Any Photo on a Mailbox" post mount mailbox. For less than a hundred dollars, one can adorn their residential mailbox with a favorite photo and The MailboxWorks will "wrap" the photo around your new residential mailbox or adorn the side with a rectangular image (whichever you prefer). The "Any Photo on a Mailbox" is a perfect gift for that family member or friend who has everything. Adorn your custom mailbox with a photo of:
A Family Pet
A Family Crest
A Portrait
A Favorite Logo
Or Even One's Own (or Child's) Artwork
Virtually any graphic can be utilized in creating a custom mailbox that is the ultimate in uniqueness.

The "Any Photo on a Mailbox" personalization process is quick and easy to do. Start with a favorite photo or image, upload it with your order and select your options. Your custom mailbox photo can adorn either a white or black standard post mount residential mailbox.

Tags: post mount mailboxes


Categorised in: Residential Mailboxes