Deciphering the Differences in Commercial Horizontal Mailboxes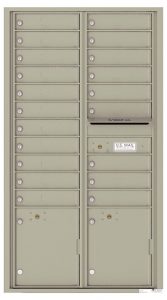 As you search for a horizontal mailbox for your business or tenant application, you'll quickly run into a maze of terminology and product labels that are confusing at best.  So, if you are looking to gain a quick grasp of the major differences among commercial Horizontal Mailboxes in the marketplace today, here is what the experts at The MailboxWorks state that you need to know about mailbox horizontal style:
4C Horizontal Mailboxes – First, if your tenant application is considered new construction, the horizontal mailbox you'll be searching for is called a standard 4C horizontal mailbox.  4c horizontal mailboxes are often used for apartments, office mailrooms, and multi-tenant buildings.  These STD-4C mailboxes are fabricated from heavy duty aluminum, 300 series stainless steel, and are available in eleven contemporary colors:  antique bronze, antique copper, black, blonde gold, dark bronze, forest green, gold speck, sandstone, silver speck, white, and the most commonly specified color:  postal grey.
Recessed horizontal mailboxes are designed to be recessed into a wall. The STD 4C horizontal mailbox also can be surface mounted with a special collar or installed into a Vario depot installation. Tenant door identification can also be specified in five different manners:  standard silver placards numbering mailboxes from 1 to the number of mailboxes configured, custom silver placards (with your own numbering system), engraved up to six characters, engraved with a black fill (up to 18 characters), and engraved with a white fill (up to 18 characters).
Experts at The MailboxWorks state that all STD-4C horizontal mailboxes are USPS approved for new or remodelled installations.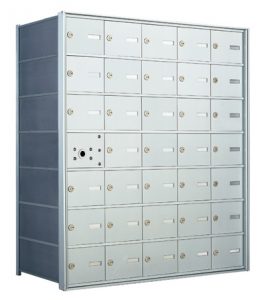 4B+ Horizontal Mailboxes – Second, if your tenant application is a replacement of an existing 4B horizontal mailbox, and no remodelling or modification of the mail center wall opening is made, you will likely be searching for a standard 4B+ horizontal mailbox.  The STD-4B+ horizontal mailbox is also called a standard 4B+ wall-mounted mailbox and sometimes it is also referred to as the 2600 horizontal mailbox since a major manufacturer, Florence Mailboxes, uses the term "2600" as a product identification number.    It is crucial to USPS approval of your project that you first consult with local postal authorities prior to modifying or building any mail delivery center since the STD-4B+ horizontal mailboxes are considered replacement mailboxes only and any changes to the configuration or any adjustments to the wall will require the STD-4C mailboxes instead.

It is a common dilemma for property managers contemplating a horizontal mailbox purchase to weigh the installation of a STD-4B+ versus a STD-4C horizontal wall mount mailbox.  Again, The MailboxWorks states that the safest way to ensure your decision is one that will comply with postal authority approval is to simply ask your local postmaster before you purchase.  Your local postmaster will have a recommendation for your application that will ensure both the security and convenience of your mail delivery works for both tenants and mail carriers.

2600 horizontal mailboxes are available in nine different powder coat finishes as well as the standard anodized aluminum finish.  These horizontal wall mount mailboxes are supplied with clear plastic number slots or may be ordered with engraved door identification numbers.   Additional options include name slots (instead of number slots), mail slots, black fill engraving, combination locks instead of key locks, and hinged rear covers.  They all have standard 15" deep compartments although the configuration of how the compartments are laid out in terms of height, width, and number are very customizable for your application's needs.

Private Distribution Horizontal Mailboxes – Third, if your application is for private mail delivery, you will likely search for private distribution horizontal mailboxes (also called 1500 horizontal mailboxes or 1600 horizontal mailboxes or 1700 horizontal mailboxes).  Except for the 1500 horizontal mailbox units which are USPS approved for mail delivery, private distribution horizontal mailboxes are suited for applications that are not serviced by the USPS but rather by a private carrier or mail delivery person such as a college, university, office mailroom, or inter-office business center.  Constructed of heavy gauge aluminum, these private distribution mailboxes are available in ten different powder coat finishes as well as the standard anodized aluminum finish.

Front loading private distribution mailboxes have one control door with a master lock that makes mail delivery a breeze as it opens the entire unit for quick delivery.  Rear loading private distribution mailboxes do not require the control door as mail delivery occurs in the rear – either through an open back to the unit or with an optional lift off or hinged rear cover.

Private distribution wall mount mailboxes can be customized to get the preferred number of resident boxes as well as parcel lockers, and outgoing mail compartments so that your students, faculty and/or business associates are pleased.  The MailboxWorks state that these private mail delivery horizontal mailboxes come supplied with either a plastic number slot or engraved door identification numbers.  Available options include black fill engraving, engraved window tabs, slots in mailbox doors, combination locks instead of keys, and parcel lockers.

UPDATE: 4C Pedestal Mailboxes have been discontinued as of November 30, 2020. The USPS Cluster Box Unit (CBU) Mailbox is now the standard for all multi-family mail delivery.

So, as you search for Commercial Mailboxes for your application, decide first which commercial mailbox system is best suitable (or allowed) for your project:  Standard 4C horizontal mailboxes, Standard 4B+ horizontal mailboxes, or private distribution horizontal mailboxes.  For expert assistance with your search, contact The MailboxWorks at 1-866-717-4943.

Tags: 4C Mailboxes


Categorised in: Commercial Mailboxes