Cluster Mailboxes Meet Three Major End-User Needs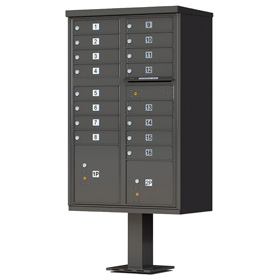 One hundred years ago postal carriers walked door-to-door, knocked at each residence, and waited for the homeowner to answer before physically handing over their mail – often a single letter. But today's mail carriers drive specially-equipped mail delivery vehicles and move like honeybees in a full-bloom garden. Why? Because of the advent of a modern day mail delivery system; Cluster Mailboxes.
Cluster mailbox units increase mail carrier efficiency by grouping tenant or residential mailboxes together – up to 29 cluster mailbox units per installation. With one cluster box location the number of postal carrier mail stops can be significantly reduced. As such, the United States Postal Service (USPS) has mandated that most new residential and tenant building construction projects install cluster mailboxes like the Auth Florence Pedestal CBU Cluster Mailboxes, to ensure mail delivery efficiency.
But cluster mailboxes do not simply serve the needs of the USPS. A cluster mailbox installation also meets the three most demanding needs of today's business tenants as well as residential homeowners:
Security
Convenience
And Community
Cluster Mailbox Units Security – The security features implemented by cluster mailbox manufacturers typically exceed the simple residential mailbox that can be opened by anyone. Cluster mailboxes are crafted of high-grade aluminum and stainless steel with interlocking and overlapping welded seams, which create a strong deterrent against identity theft and mail theft. Cluster mailbox units also utilize a special locking mechanism that allows the postal carrier to use one cluster mailbox key to deliver all the tenants' mail at once while at the same time, securing the mail in each tenant's individual mailbox for their private reception only.

Cluster Mailbox Units Convenience – Cluster mailboxes also offer a strong convenience factor to business tenants and residential homeowners – especially for tenants and homeowners who are not always available to accept USPS package deliveries. Cluster mailboxes that utilize a special secure package delivery box unit or the standalone package delivery units like the Auth Florence Outdoor Parcel Lockers, provide the ultimate convenience for residential or commercial package delivery. These outdoor cluster mailboxes allow a resident or tenant to avoid the delivery window trap that often occurs when one has to wait around for a package delivery. Additionally, cluster mailboxes also offer the convenience of a secure outgoing mail slot so that homeowners and tenants can simply drop off their mail and go.

Cluster Mailbox Units Community – Finally, cluster mailboxes offer an ingredient many property managers and developers fail to factor; community. In a day where many homeowners press a remote and drive in and out of their garage and where many business owners fail to catch the name of their neighbor, cluster box unit mailboxes help bring neighbors together through the simple act of gathering their mail. For property managers that depend on strong lease renewal rates, a well-developed, well-networked community does wonders for tenant retention. And for residential communities, the simple connection that occurs at cluster mailboxes often provides the initial point of contact that builds well-knit communities.

For all these reasons and likely more, cluster mailboxes are a significant improvement not simply for one's postal carrier and the USPS but also for cluster mailbox unit buyers and end users as well.

Tags: Cluster Box Unit (CBU) Mailboxes


Categorised in: Commercial Mailboxes