The Perfect Post or Wall Mount Residential Mailbox for Your Colonial Home
Colonial Mailbox
Make your home's entryway more elegant with a Colonial Mailbox. Over the past decade, colonial style mailboxes have become more popular. These post and wall mount residential mailboxes are constructed of weather-resistant materials and are made by well-respected brands.
Looking for the perfect colonial mailbox for your Colonial style home? Take the time to review the history and key elements of this distinguished American style and you'll be well prepared to choose the residential mailbox that best enhances your Colonial home.
Historically, Colonial style has its roots in both the Italian Renaissance of the Roman Empire and the Classical designs of ancient Greece.
Rome Colonial style rose up during the mid-1700's as North America's East Coast welcomed adventurous settlers from European nations who brought across the Atlantic with them, a variety of styles from their home countries. As these styles were incorporated into the homes and businesses of the colonists, the architecture that arose was aptly labeled "Colonial." And depending on which home country the style originated in, there are a variety of Colonial styles:
Georgian Colonial Dutch Colonial
French Colonial German Colonial
Spanish Colonial Federal
And Cape Cod
In a sentence, Colonial style was a sincere reproduction of the style the colonists had been accustomed to in their home countries.
The three key elements of Colonial architecture that you want to be mindful of as you search residential mailboxes for a complimentary colonial style mailbox are:
Symmetrical And Balanced Design
Proportional Decorations (Such As Dental Moldings)
And Flat-Faced Columns and/or Pilasters
As with any decorative element for your Colonial home, you will want to steer clear of modern or contemporary mailbox designs such as stainless steel. The sleek clean lines of contemporary and modern mailboxes do have a common trait with the flat affects of Colonial architecture but that is where the similarity ends. The two styles, in a word, clash. Additionally, avoid Victorian, Western, and Stucco designs – for the same reason.
So, which residential mailboxes best compliment a Colonial home?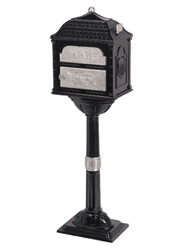 For those requiring curbside colonial mailboxes, the three key elements of your Colonial home are well represented in the Whitehall Custom Mailbox and Post (as well as the Whitehall Ultimate Mailbox and Post).

Whitehall mailboxes are perfectly symmetrical, sit squarely in the middle and well balanced on the post (rather than off to the side), and feature a flat-faced column with proportional decorations (such as the small finial on the mailbox door that matches the larger finial on the mailbox post).

Original Keystone Mailboxes with Standard Posts are also a good fit (although the offset Deluxe Post style should be avoided as it will not harmonize well with the symmetrical style of your Colonial home).

The Classic Locking Mailbox with Pedestal Post by Gaines is also a great choice for a Colonial home. Not only are these pedestal mounted residential mailboxes built with strong symmetrical design, the raised Americansymbols such as the eagle on the front door and the shield on the sides echo Colonial styling.

For those requiring wall mount colonial style mailboxes, the three key elements of Colonial design can best be found on the Whitehall Wall Mount Mailbox collection. These spacious, lightweight, and easy to mount cast aluminum mailboxes are perfectly symmetrical, echo the square balanced Colonial style, and feature flat faces that will echo your Colonial home's style.

For those seeking a more decorative colonial style mailbox look, select the vertically oriented Colonial Locking Wall Mount Mailbox. This wall mount residential mailbox features a high security lock and a small peek in window that lets you know when mail has arrived (without having to open the door).

For those requiring column-mounted mailboxes, the best possible choice to reflect the stature of your Colonial home is the Manchester Column Mount Mailbox. The plain flat-face of this well-balanced mailbox comes with four choices of adornment on the face of the mailbox: plain, a beautiful scroll, an orthodox cross, or a fleur-de-lis – all of which are symmetrical and have the classical feel of a Colonial home.

Tags: Mailbox Style Guides, post mount mailboxes, Wall Mount Mailboxes


Categorized in: Design Inspiration & Gift Ideas