Considerations on Purchasing Dormitory & Campus Mailboxes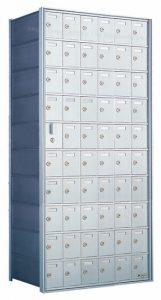 As enrollments climb, many universities and college campuses are looking for simple solutions to add mailbox capacity.  Since adding campus mailboxes are not a frequent task for most institutions, understanding the types of available college mailboxes and university mailboxes are of paramount concern.  As such, university and college mailbox buyers should acquaint themselves with these three types of student mailboxes:
1. Horizontal Mailboxes – Most Common
First, one of the most common mailboxes for universities and colleges is the standard horizontal mailbox designed for university and college mailrooms.  These horizontal commercial mailboxes provide the widest possible array of configurations available to mailroom applications.  Available in any combination of three widths (4 inches, 8 inches, and 12 inches) and two heights (5 inches and 10 3/8 inch), the individual horizontal mailbox units can accommodate a wide variety of mailroom needs.
In the smallest size (the A Door size of 4 inches wide by 5 inches high), these horizontal commercial mailboxes can contain up to 60 individual student mailboxes per unit.  In the largest size, (the F Door size of 12 inches wide by 10 3/8 inches high), these horizontal commercial mailboxes can hold up to 8 units.  Of course, mixed-size units may also be special ordered so that campus mailbox needs can be specifically addressed.  Additionally, mail distribution options include both front loading and rear loading applications so college and university mailroom personnel can stock the mailboxes quickly and easily.  The mailroom staff opens one large unit door that exposes all the individual campus mailboxes without having to open each unit individually.
These private distribution horizontal mailboxes manufactured by Auth Florence also include optional features such as combination locks and door engraving for personalizing each college or university mailbox.
2. 4c Commercial Mailboxes
Second, another common solution for university, and college dormitory mailroom applications is called the "4C mailbox." These private use 4C commercial mailboxes also come in a wide array of configurations.  The smallest 4C mailbox unit is called Suite B 4C that typically ranges from 7 doors and no parcel lockers to no doors and 1 parcel locker.  The largest 4C commercial mailbox unit is Suite F 4C and it includes up to 29 doors without a parcel locker and up to 20 doors with 2 parcel lockers.   To help customize the campus mailbox units for the exact need, there are six other suite sizes available and each suite has several choices of doors and parcel lockers.
These private distribution 4C mailboxes from the Auth Florence Manufacturing Company include all the features of the standard USPS 4C mailboxes except they are specifically manufactured for use as university campus mailboxes or college mailboxes.
Optional features on the 4C commercial mailbox include mixed tenant and parcel door sizes, slots in doors, mail slot removal, combination locks, and door engraving; ideal for use as dormitory mailboxes.  Another benefit is the 4C mailboxes can be installed in the Vario outdoor mail centers located near dormitories.
UPDATE: 4C Pedestal Mailboxes have been discontinued as of November 30, 2020. The USPS Cluster Box Unit (CBU) Mailbox is now the standard for all multi-family mail delivery.
3. CBU Cluster Mailboxes
Third, a newer trend for university, college, and campus mailboxes is the innovative Cluster Mail Box (CBU mailboxes) unit that can be mounted anywhere outdoors on the campus.  These CBU mailboxes are popular options as they also save the cost of valuable indoor square footage.

CBU mailboxes are available in 8, 12, 13, and 16 doors per unit size.  They can be utilized to distribute private mail in dormitories and on-campus or they can also be used for USPS mail delivery.  Many architectural accessories are also available to enhance the attractiveness of each cluster campus mailbox unit.  Solar-powered site accessory lights are also available to provide a higher degree of security and ease of use for students in the evening hours.

All university mailboxes – whether the horizontal, 4C or CBU mailboxes – are available with significant quantity discounts from The MailboxWorks.  Contact The MailboxWorks at 1-866-717-4943 for best pricing and quotes.

Also, read our article on Making the Correct Mail Delivery Purchase Decision for University Mailboxes.

Tags: 4C Mailboxes, Cluster Box Unit (CBU) Mailboxes


Categorised in: Mailbox Tips & General Information