CBU Cluster Mailbox Benefits Extend Not Only to the USPS but also to Property Developers and Tenants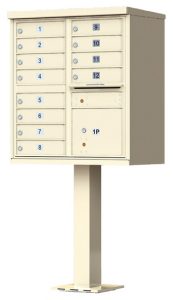 Cluster Mailboxes, also called cluster box unit mailboxes or CBU Mailboxes, originated with the United States Postal Service (USPS) desire to move away from individual mailboxes at each postal address to a centralized cluster of mailboxes that served many individual addresses. This move, which began before the turn of the century, helped postal carriers and provided three major benefits to the USPS:
First, cluster mailboxes allowed postal carriers to make fewer stops, which meant lower operating costs for each mail carrier's vehicle.
Second, cluster mailboxes provided faster overall service since multiple deliveries per stop was far more efficient than one delivery per stop.
Third, the change to cluster mailboxes resulted in far less dog bites (seriously) per mail carrier as the carrier no longer had to enter yards to deliver the mail but could simply deposit the mail in the cluster mailboxes, which were mounted in a location outside the protection and fences of homeowner's dogs.
Plus, the change to centralized CBU mailboxes not only provided the above three significant benefits to USPS and its postal carriers, but there were three unexpected benefits to property developers and property managers that soon surfaced as the cluster mailboxes made their way into community planning:
First, the utilization of CBU mailboxes provided significant cost savings over individual mailboxes for each tenant or resident.
Second, CBU mailboxes provided a much more secure solution to mail delivery for tenants – significantly reducing mail theft and identity theft – and thus enhancing the overall safety of the property under management.
Third, the overall aesthetics of the neighborhood or tenant property was significantly improved due to the elimination of non-uniform mailboxes erected by individual tenants and the establishment of highly uniform cluster mailboxes.
In addition to the benefits to the USPS and to the property developers or managers, the emergence of CBU mailboxes or cluster mailboxes also had four highly preferable benefits to the end users, the residents or tenants themselves:
First, the utilization of cluster mailboxes meant that tenants or homeowners no longer had to wait at home or at the office for the mail in order to receive a parcel package.
Second, the use of cluster mailboxes meant tenants or homeowners could avoid costly and time consuming trips to the post office or to collection boxes, by simply placing outgoing mail in the cluster mailbox's outgoing mail slot.
Third, the mail received in cluster mailboxes is much better protected from the elements than through standard, unprotected individual mailboxes.
Fourth, the cost savings to the USPS from the use of cluster mailboxes help sustain lower costs to the end user.
USPS approved cluster mailboxes are available in many configurations, colors, and decorative additions to meet specific property needs and requirements. They can also be utilized for Commercial Mailboxes or for use in multi-unit residential properties. The MailboxWorks, the nation's largest supplier of cluster mailboxes, provides expert-level guidance for property developers and property managers who want to purchase cluster mailboxes in the most efficient manner.

Tags: Cluster Box Unit (CBU) Mailboxes


Categorized in: Commercial Mailboxes