The Finest, Most Unique Collections of Wall Mount Mailboxes in North America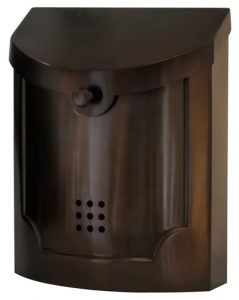 Poised to make a great first impression at one's front door, residential wall mount mailboxes go beyond their function of simply receiving one's mail by providing an ascetically pleasing welcome to a homeowner's guests.
Additionally, the careful selection of either a vertical wall mount mailbox or a horizontal wall mount mailbox for one's residence is made quite simple by the curated collections of distinctive residential mailboxes at The MailboxWorks.
To discern what type of vintage wall mount mailbox or modern contemporary wall mount mailbox would be perfect for your home, the experts at The MailboxWorks present each homeowner with a museum-like tour through six exhibits based upon architectural style.
Contemporary Wall Mount Mailboxes
For homeowners seeking a modern mailbox to punctuate the bold, sleek style of today's sophisticated residences, visit The MailboxWork's exhibit of contemporary wall mount mailboxes.
In this exhibit homeowners will find a stunning collection of modern contemporary wall mount mailboxes including Knobloch mailboxes, the Ecco collection, the Blomus Collection and the modern Bobi wall mount mailboxes, plus so much more.
Stainless Steel Wall Mount Mailboxes
For homeowners who desire to narrow their modern taste to stainless steel wall mount mailboxes only, consider a visit to The MailboxWork's stainless steel residential mailbox collection where every quality stainless steel mailbox option available in North America is presented.
Classic Style Wall Mount Mailboxes
For homeowners seeking classic and vintage style wall mount mailboxes that complement the architectural lines of their heritage style residence, visit The MailboxWork's classic wall mount mailboxes exhibit where one will find over two dozen fine, distinct classic wall mount mailboxes that are sure to please even the most discerning of homeowners.
Victorian Style Wall Mount Mailboxes
And for homeowners that wish to narrow their classic choices to the Victorian era, a visit to The MailboxWork's Victorian and Antique style wall mount mailboxes provides a complete overview of the curator's offerings.
Recessed Wall Mount Mailboxes
The MailboxWork's even includes exhibits for homeowners who are seeking recessed wall mount mailbox solutions including:
Mail drop mailboxes
Letter slots
And mail vaults collection
Decorative Wall Mount Mailboxes
Additionally, The MailboxWorks also offers a collection of decorative wall mount mailboxes that encompasses the widest variety of architectural styles (from nostalgic and western style to stucco style, French, and arts and crafts styles).

Since 1989, The MailboxWork's has served the varied needs of residential homeowners throughout North America by selecting, organizing and presenting the finest and most unique collection of wall mount mailboxes for sale.

As the nation's largest purveyor of post and wall mount residential mailboxes, The MailboxWorks boasts not only the widest array of choices in wall mount mailboxes but also, due to their buying power, the most competitive pricing.

Tags: Mailbox Style Guides, Wall Mount Mailboxes


Categorised in: Residential Mailboxes