A Fast, Inexpensive Solution to Improving the Look of Your Neighborhood or Complex Mailbox.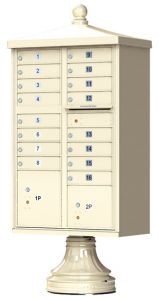 Own or manage an upscale apartment complex?  On the board of a homeowner's association?  One of the easiest and quickest ways to brighten up your subdivision or complex is by adding inexpensive decorative accessories to your cluster mailbox units (CBU).  Adding decorative accessories to your neighborhoods CBU's is a simple, minor installation project with a major improvement in neighborhood appeal.
Installing Auth Florence or Architectural Mailboxes decorative accessories for cluster mailboxes is a dramatic and yet inexpensive way to improve an entire subdivision's property values or to add instant value to an apartment complex.
"We were looking for an economical way to cover up the 'utility box' look of our mailboxes.  When we installed the Vogue pedestal covers and crown caps, it was an instant hit with my fellow homeowners.  For the money, there's very few improvements like these decorative accessories that can take what used to be a liability and turn it into a neighborhood asset," noted one HOA board member in a prominent Fort Wayne, Indiana, subdivision.
The Vogue line of CBU accessories for cluster mailbox units comes in two distinct styles to enhance both traditional and contemporary communities.  The traditional decorative accessories style is reminiscent of a colonial style and works perfectly with more established communities or those in Cape Cod, Arts & Crafts, Victorian, Bungalow, American Foursquare, Saltbox, Gothic and other such traditional styles.
The classic CBU accessories series by Architectural Mailboxes, on the other hand, is a perfect complement to Greek, Italian, Georgian, and other contemporary styles or styles using a fluted column look.  You can also mix and match the styles for a unique CBU installation that defines your neighborhood or complex.
Like the rugged CBU mailbox units they fit over, these CBU accessories have a rugged, corrosion and weather resistant powdercoated finish that resists scratching and vandalism.  The cluster mailbox unit accessories are available in six colors and are made of all aluminum, corrosion-resistant construction. Installation is a snap – literally – the CBU accessories just snap-together with minimal hardware.
You can find all decorative accessories at The MailboxWorks online at (put links here) or by calling 1-866-717-4943.
Categorised in: Commercial Mailboxes