Consider These 4 Factors When Buying Apartment Mailboxes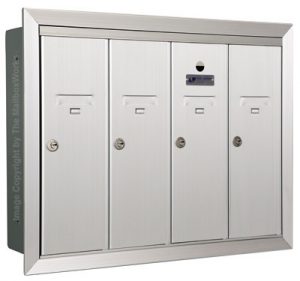 One of the key architectural or developer considerations for a new apartment complex is the selection of Apartment Mailboxes. Why? Because the selection of apartment mailboxes must not only fit within the appropriate and ever-changing United States Postal Service (USPS) regulations but they also factor into the success of the apartment complex with regard to tenant retention.
Before specifying apartment mailboxes for one's new construction apartment complex, review these four key considerations for apartment Commercial Mailboxes:
Mailboxes Location
Security
Number of Tenants
Style of Apartment Mailboxes
UPDATE: 4C Pedestal Mailboxes have been discontinued as of November 30, 2020. The USPS Cluster Box Unit (CBU) Mailbox is now the standard for all multi-family mail delivery.
Interior or Exterior Apartment Mailboxes
The first thing to consider is where the apartment mailboxes will be located. If you require interior apartment mailboxes, which need to be located on the interior of the apartment building complex, Postal Service regulations state that the standard 4C Horizontal Mailboxes must be used.
These front-loading horizontal mailboxes can be recessed into a wall or surface mounted. It's vital to consult with the local postal service postmaster before installing to ensure that the installation of the horizontal apartment mailboxes meets with their approval.
If you require exterior apartment mailboxes that need to be located on the exterior of the apartment building complex, then one has a choice of mounting the 4C horizontal mailboxes in a centralized location on a shelter or stand such as the Vario mailbox shelter or the Vario Express mailbox shelter. Or one can choose a more decentralized option such as CBU Mailboxes (also called cluster box units). CBU apartment mailboxes can be placed in convenient locations throughout the apartment complex so that tenants can walk from their vehicles to their mailbox and onto their apartment unit or CBU mailboxes can also be clustered together to create more of a social setting for the tenants.
How to Keep Apartment Mailboxes Secure
The second thing to consider is the tenant's need for security when collecting their mail. With respect to both interior and exterior apartment mailbox locations, the simple grouping of apartment mailboxes can significantly improve the tenant's sense of safety and security. Additionally, the grouping of apartment mailboxes (whether 4C horizontal mailboxes or CBU mailboxes) also creates social dynamics that strengthen the apartment community (and thus, enhancing tenant retention through social binding and potential friendships).
If there are special security concerns for exterior mailbox locations, high-security CBU mailboxes may be specified. Such high-security CBU mailboxes are constructed with heavier gauge steel and reinforced tenant doors to thwart mail theft from would-be thieves or vandals.
Quantity and Size of Apartment Mailboxes Required
The third thing the developer or architect must consider is the number of units required and the potential mail volume of the tenants. One can certainly specify a larger number of smaller tenant units to create initial savings on the apartment mailboxes purchase but unless there is compelling evidence that tenant mail volume is slight, the wise developer may create longer tenant retention rates by considering the fact that many busy apartment dwellers do a considerable amount of internet shopping as well as operate home-based businesses where mail volume can be considerable and package delivery can be quite frequent.
Thus, the selection of larger tenant mailbox units and units with package delivery boxes is often the wiser choice since the tenant retention rates over the long run will greatly outpace any short-term savings on initial mailbox equipment. The MailboxWorks, the nation's leading distributor of apartment mailboxes, can provide expert guidance to the architect or developer in achieving the right balance of tenant doors and package delivery boxes on apartment mailboxes (whether the 4C commercial mailboxes or the CBU mailboxes).
Style of Apartment Mailboxes
Often overlooked, the fourth thing the developer or architect should consider is style when it comes to apartment mailboxes. 4C commercial mailboxes are available in eleven different color options to complement both interior and exterior design. CBU mailboxes are available in six different finishes.

CBU apartment mailboxes also may be adorned with decorative accessories to cap the roof and improve the look of the post column. These die-cast aluminum mailbox accessories can be found in two different classic styles: rounded columns and vaulted roof cap with a ball finial or a fluted squared column with a matching squared roof cap.

Additionally, tenant door identification placards (for either 4C commercial mailboxes or CBU mailboxes) can be utilized as a design statement as these are available as both placards attached to each mailbox unit or engraved with varying fill colors.

Thus, location, security, size, and style should be considered before purchasing or specifying commercial apartment mailboxes for new construction apartment complex units. And it is always wise to consult with the postal service through one's local postmaster to ensure that postal service regulations are fully met.

Tags: 4C Mailboxes, Cluster Box Unit (CBU) Mailboxes


Categorised in: Commercial Mailboxes