Modern Genius of Blomus Signo Stainless Steel Wall Mount Mailboxes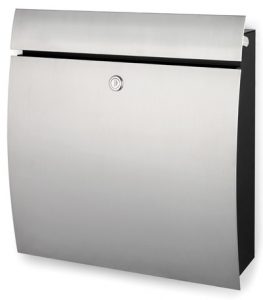 Created by the same designer who is featured in modern exhibits at MoMA and honored with awards from leading product design companies in a variety of categories (such as Audi, BMW, and Braun), Blomus Signo stainless steel mailboxes are the modern design innovation of the highly respected German industrial design firm: Stotz.
The Blomus stainless steel modern mailbox is a wall mount mailbox that weds the sleek lines of modern design with a stunning functional elegance that is simple to use and suitable for either home or office.
Blomus Mailbox Dimensions
Slim by design, Blomus Signo mailboxes are an excellent choice for covered porches where space is often limited. The four-inch depth of Blomus mailboxes help ensure that your postal carrier doesn't roll up your subscription to Architectural Digest.
Additionally, the perfectly squared 16 ¾" by 16 ¾" dimensions of Blomus mailboxes not only reflect the tenets of modern design but they also provide ample room for all your mail to be deposited without unsightly creasing.
Other Mailbox Features
Mailbox Newspaper Holder – An optional holder for your newspaper is sleekly positioned beneath the Blomus Signo wall mount mailbox at the precise curve of the mailbox while adding key functionality for delivery of your news.
Optional Viewing Window – Functionally, Blomus Signo stainless steel mailboxes are available with or without a full-length safety-window across the bottom of the mailbox that allows you to quickly assess whether or not your mail has been delivered. Many homeowners appreciate the convenience of simply peering out their front door to glance at the Blomus Signo mailbox window rather than having to dress for difficult weather, only to discover multiple times that one's mail has yet to be delivered.
Blomus Locking Mailbox
For security conscious homeowners who desire to keep their mail protected from identity thieves or vandals, the Blomus locking mailbox is equipped with a high security lock as well as two keys for convenience.
Blomus House Numbers and Letters
For homeowners wishing to punctuate the modern design ascetic of their home, Blomus stainless steel mailboxes can be accessorized with matching Blomus house numbers. Available at The MailboxWorks, Blomus stainless steel house numbers feature the same finish as the Blomus Signo stainless wall mount mailbox.

Made from a non-corrosive 18-8 thick stainless steel that's been painstakingly brush-finished, the high lux modern design of Blomus house numbers and letters not only provides a highly durable, rust resistant surface that is easy to maintain but also a stunningly attractive (and often first-encountered) accessory for your residence.

All mailbox installation hardware is included as well as simple installation instructions to mount your new Blomus Signo wall mount mailbox.

Tags: Metallic Mailboxes, Wall Mount Mailboxes


Categorised in: Residential Mailboxes