Blomus Mailboxes: German Modern Style Comes to Residential Mailboxes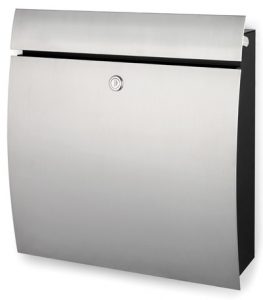 Blomus, the German design that features smooth stainless steel surfaces, now offers stainless steel residential mailboxes. These Blomus mailboxes are strikingly different from the plethora of wall mount mailboxes offered in the marketplace.
Blomus mailbox design is a harmonization of form and function. Simple forms plus beautiful materials is the formula for the stunning stainless steel mailboxes produced by leading German designers. Rather than expose the cold, sterile stainless steel edges, one of the finer, more subtle aspects of Blomus mailbox design, are the softened edges.
The Blomus Signo Stainless Steel Wall Mount Letter Box is a fine example of Blomus' simplicity in design. This smooth, well-constructed contemporary mailbox not only functions as a strong, secure residential mailbox but also as modern art. This residential mailbox is available with a matching newspaper holder that lengthens as well as strengthens the sleek design. Blomus has also made available a beautiful set of house numbers and letters in a sans serif font that match the stainless steel design of the Blomus mailboxes.
For residential homeowners that prefer quicker trips to the mailbox, Blomus makes the Signo stainless steel wall mount mailbox with a special see thru window that allows homeowners to see if their mail has been delivered. This useful feature is very helpful to homeowners who are able to view their mailbox from inside their home as one can check to see if their mail has been delivered without even opening their door.
The Blomus Signo line of residential mailboxes also features an eye-catching Vertical Wall Mount Mailbox. One of the striking features of this residential mailbox is the design inspiration: it is inspired by an item you normally find inside your mailbox – the envelope. Like other Blomus mailboxes, this vertical wall mount mailbox also has an optional newspaper holder.
Available at The MailboxWorks, Blomus stainless steel mailboxes bring modern art to today's residences.
Categorised in: Design Inspiration & Gift Ideas