The United States Postal Service Honors The MailboxWork's "Auth Florence" Commercial Mailboxes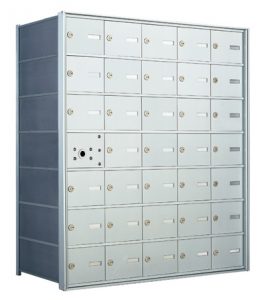 The MailboxWork's Auth Florence is the top commercial mailbox manufacturer in the United States. As the nation's elder in Commercial Mailboxes and commercial mailbox parts (and accessories), with over 75 years of producing commercial mailbox parts and commercial mailboxes themselves, The MailboxWork's Auth Florence offers the broadest product line among commercial mailbox manufacturers.
A leader in innovation and a quick study of the trends facing USPS postal mail carriers, this commercial mailbox manufacturer has set the USPS design standard for all approved CBU Mailboxes designed for use in the United States. Also known by Auth, Auth-Florence, Cutler, Auth-Electric, Florence, and Florence Manufacturing, this certified ISO 9001:2000 leader among commercial mailbox manufacturers utilizes robotic welding, long-lasting industry-leading powder coating, and a green mentality in manufacturing practice (reclaiming powder as well as recycling aluminum, steel and corrugate).
In fact, commercial mailbox standards have been set regularly by Auth Florence's cutting edge design and manufacturing. For example, in 2005, Florence's decades-long partnership with the United States Postal Service (USPS) distinguished them from all other commercial mailbox manufacturers as the only supplier of F series cluster box units (CBU's) in the nation.
The Florence manufacturing company is also the only manufacturer that meets stringent commercial mailbox standards set by the USPS to provide outdoor parcel lockers and replacement parts and pedestals to the USPS.
In 2006, The MailboxWork's Auth Florence received an even greater merit award among commercial mailbox manufacturers with regard to commercial mailbox standards: the prestigious USPS Supplier Excellence Award.
A recent 2008 USPS audit with regard to commercial mailbox standards for commercial mailbox suppliers and commercial mailbox manufacturers, placed Florence Manufacturing as "one of the best in class."

And Auth Florence mailboxes warrant the attention. They are manufactured with top-notch commercial mailbox parts and to the highest quality commercial mailbox standards. As the manufacturer that the USPS depends on for their commercial mailbox parts and product needs, commercial mailbox buyers can depend on their quality and know their products will be commercial mailbox compliant, meeting standards and specifications set by the USPS.

Additionally, The MailboxWorks knows exactly how to assist those needing assistance with stringent USPS commercial mailbox standards. The MailboxWorks assists architects with specification needs; provides builders with product dimensions and rough opening calculations; and is a nation-wide expert in helping property managers to understand the latest issues in postal regulations impacting their commercial mailbox units and tenants. Plus, The MailboxWork's Florence Manufacturing stands behind all their products with the nation's best warranty among commercial mailbox manufacturers and commercial mailbox suppliers: the Five Year Warranty.

This warranty covers defects in workmanship or materials of all equipment and guarantees that Florence will provide factory replacement and/or repair all defective units (of course, the warranty does not cover battery replacement, other consumables, or damage due to improper installation, mishandling, misuse, or acts of nature). But among commercial mailbox manufacturers in the nation today, The MailboxWork's Florence Manufacturing stands strong as the long-standing leader in commercial mailboxes.

Tags: Cluster Box Unit (CBU) Mailboxes


Categorised in: Commercial Mailboxes