5 Questions to Ask Before Choosing a New Residential Mailbox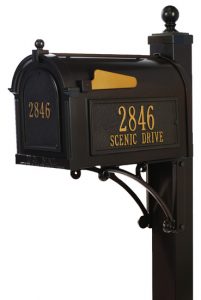 The purchase of a residential mailbox is a fairly uncommon event for most homeowners and because of this, we've put together this article to help you be better prepared.
In this article, we will reveal the top five top questions every homeowner should ask when choosing a new residential mailbox for their home.
Question 1: What type of mailbox do I currently own?
Residential mailboxes are sold according to the mounting apparatus. Do you own a wall mount mailbox, a post mount mailbox, a pedestal mount mailbox, or a column mount mailbox? You will need to know the mailbox mounting type in order to replace it. However, if you are moving into a newly built home, then you will need to check with your local postmaster as to which type of residential mailbox is allowed in your area.
Question 2: What is the architectural style of my home?
Residential mailboxes are the bastions of a home's architectural style. Your mailbox is the first accouterment your guests will take notice of and it should signal the overall architectural style of your home. From modern mailboxes to Arts & Crafts styles and Victorian mailboxes, the look of one's home will inform your design decisions about the kind of residential mailbox that will best suit your residence.
Question 3: What size of residential mailbox will I need?
If you pick up your mail daily and rarely receive packages, you can buy a residential mailbox of any size, without worry of having enough space to receive your mail. But if you run a business out of your home, or enjoy online shopping, or you go on extended trips, you should consider purchasing a large residential mailbox to ensure you have enough room to contain the mail (and even magazines or small packages) that may be delivered to you.
Question 4: Need I be concerned about identity theft or mail theft?
In an age where it can take years to restore one's identity, many homeowners are very concerned about mail security. If you do not feel your mail is at risk of theft, then you can purchase any residential mailbox. But, to ensure your mail is not stolen, and to thwart mail or identify theft, it is vital to consider the security features of a locking residential mailbox before your selection.
Question 5: Can I access my residential mailbox safely?
If you live on a busy thoroughfare where oncoming traffic may make it difficult to safely retrieve your mail from a curbside mailbox without risk of being hit by a truck or car, then consider a rear access residential mailbox. The rear access panel on your curbside post mount mailbox will allow you to retrieve your mail without stepping out into a busy street. If you have a wall mounted residential mailbox you may wish to purchase a letter slot mailbox so you do not even have to step outdoors. The delivered mail passes through a slot right into your home.
Categorised in: Mailbox Tips & General Information