An Overview of Rear and Front Loading 4C Mailboxes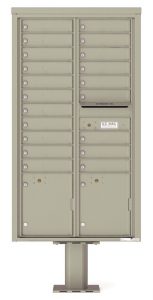 For USPS serviced apartments and multi-tenant buildings under property management, one of the absolute best choices in Commercial Mailboxes is 4C mailboxes.
4C Horizontal Mailboxes are available in two loading options and in four mounting options providing a strong array of choices for today's property managers.
UPDATE: 4C Pedestal Mailboxes have been discontinued as of November 30, 2020. The USPS Cluster Box Unit (CBU) Mailbox is now the standard for all multi-family mail delivery.
The loading options for 4C mailboxes refer to the manner in which the postal carrier opens the mailbox unit to deliver the mail are easily identified as:
Rear Loading 4C Mailboxes
Front Loading 4C Mailboxes
Rear Loading 4C Mailboxes
Rear loading 4C mailboxes are an excellent choice for tenant convenience as they are serviced from the rear of the mailbox unit from a locked or secure room not accessible by the public.
Because the postal carrier can deliver the mail from the rear of the 4C mailbox unit, tenants are never inconvenienced in the retrieval of their mail as can occur with front-loading mailbox units. For property managers and developers who are often concerned with tenant retention, the elimination of minor inconveniences such as this is often a concern.
Front Loading 4C Mailboxes
For multi-tenant buildings and apartments requiring flexibility in mailbox mounting options, front-loading 4C mailboxes are often the best choice. With front-loading 4C mailboxes, the postal carrier utilizes the same side (front side) of the 4C mailboxes that the tenants utilize but simply unlocks a panel across the unit that allows access to all the tenant mailboxes at once for quick mail delivery. Because a secure mail delivery room is not required for front-loading 4C mailboxes, a variety of 4Cmailbox mounting options are available.
Front Loading 4C Mailbox Mounting Options
The front-loading 4C mailboxes can be mounted in numerous ways:
Recessed into a wall
Surface-mounted onto the wall using special brackets and side panels
Mounted into Vario Depot mail stands and placed without the need of a wall
Or mounted into an outdoor structure such as
a. Auth Florence 4C Mailboxes Shelter
b. Auth Florence Vario Express 4C Mailboxes Shelter
Additionally, if approval from one's local postmaster is received, 4C mailboxes can be pedestal mounted as well.
4C Mailbox Accessories
With either the rear loading 4C mailboxes or the front-loading 4C mailboxes, additional mailbox accessories can be implemented into the mail delivery system. Two popular accessories are the Collection and Drop Boxes plus the trash and recycling bins. Both are simply added to a wall or collection of 4C mailboxes and have a uniform look.

Collection/drop boxes are utilized in tenant applications where a tenant may drop off his/her dry cleaning, DVD or library books, or other items for concierge-style service. The trash/recycling bins are a very popular accessory as many tenants simply go through their mail right at their tenant box and can discard any unneeded mail items without the temptation of littering.

Tags: 4C Mailboxes


Categorised in: Commercial Mailboxes