4C Commercial Mailboxes – Buyers Guide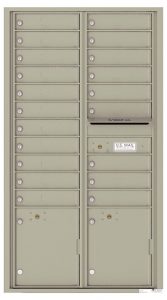 In this article, the commercial mailbox experts at the nation's leading retailer, The MailboxWorks, will discuss what you need to know when selecting and buying commercial 4C mailboxes for your application.
UPDATE: 4C Pedestal Mailboxes have been discontinued as of November 30, 2020. The USPS Cluster Box Unit (CBU) Mailbox is now the standard for all multi-family mail delivery.
While some commercial mailboxes are fairly easy to order (such as cluster box mailboxes), 4C mailboxes require a significant amount of forethought and if you are unfamiliar with 4C mailbox requirements, the process can be daunting. Before an order is placed, some consideration must be given to the application of versatile 4C mailbox suites including:
The installation space and how the 4c mailboxes will be mounted
How many tenant mailbox doors is required per unit
4C mailbox finishes and door numbering options
1. Space for Mounting 4C Mailboxes
First, give some thought to the space you want the 4C mailboxes to be mounted in. There are three options:
Surface-mounted on an indoor wall
Recessed mounted inside an indoor wall (a section of the indoor wall may need to be removed)
Encased in a free-standing unit that doesn't require wall space (ideal for outdoor commercial mailboxes)
Surface Mounted 4C Mailboxes – Be sure to specify that you need front-loading versatile 4C horizontal mailboxes.
Recess Mounted 4C Mailboxes – If mail is to be delivered to the front of the commercial 4C mailboxes you will need to order a front loading unit. However, if mail will be delivered from a secure room at the back of the unit, be sure to order rear loading 4C mailboxes.
If you are unsure which mounting option will work best for your property you can contact The MailboxWorks at 1- 800-824-9985 and speak with one of our commercial mailbox experts.
Free-Standing 4C Mailboxes – For freestanding mailbox units that require no wall space and can be placed indoors or outdoors, wherever the need exists, you will need to specify 4C commercial mailboxes with the Vario Depot Mail Stand.
2. Number of Tenant Mailboxes Required
The second consideration, regardless of the 4C mailbox mounting application, is to decide how many tenant mailbox units are required. All commercial 4C mailboxes can be ordered with up to as many as twenty-nine tenant mailboxes, as well as one or two parcel lockers per unit. Some 4C mailbox configurations consist of two columns of tenant mailboxes, while others have only a single column.
3. 4C Mailbox Finish & Door Numbering Options
The third consideration for all mounting types and tenant mailbox configurations involves the mailbox finish and door number options.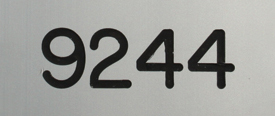 4C Mailbox Finishes – You can choose between eight different color finishes including the color selection for the surface mount collar that surrounds the unit for each mounting type.

Mailbox Door Numbering Options – Additionally, you can choose from four different choices for how each tenant mailbox door unit will be numbered including Silver Placards, Engraving, Black Filled Engraving, and White Filled Engraving.

If you have a firm grasp on these three steps it will help you when buying commercial 4C mailboxes. Keep in mind also, that the Mailboxworks offers excellent quantity discounts for purchases of two or more units.

If you still have questions about ordering commercial 4C mailboxes please contact us online or call The Mailboxworks toll-free at 1-866-717-4943. All our commercial mailboxes can be viewed here.

Tags: 4C Mailboxes


Categorised in: DIY Mailbox Installation & Upgrades