4C Mailbox Suites: Celebrating 7 Years of Official USPS Status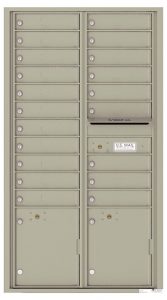 On October 4, 2004, the United States Postal Service (USPS) officially inaugurated the replacement of USPS standard 4B mailbox units with 4C Mailboxes (also called cluster mailboxes). Cluster mailbox regulations meant that standard 4B mailbox units would no longer be utilized in new construction for centralized mail delivery in residential, mixed residential or commercial projects.
UPDATE: 4C Pedestal Mailboxes have been discontinued as of November 30, 2020. The USPS Cluster Box Unit (CBU) Mailbox is now the standard for all multi-family mail delivery.
Due to strong evidence of emerging mail volume trends and changing customer habits, the new mailbox standard for these cluster mailbox units (and 4C Mailbox Shelters for centralized mail distribution) was adopted through a consensus of interested parties.  Those providing crucial input to the new cluster mailboxes standard included mailbox manufacturers, mailbox distributors, tradespeople who install commercial mailboxes, and property owners and managers who manage multi-unit residential mailboxes and commercial mailboxes.
This "new" standard in cluster mailbox units was created to benefit anyone who sends mail and receives mail as well as the USPS.  The new 4C mailbox suites would provide four key enhancements:
First, an increase in protection against the elements and mail theft
Second, 4C mailbox suites would significantly reduce the maintenance costs incurred by property owners
Third, 4C mailboxes would reduce USPS costs by providing easier access for postal carriers in serving and delivering the mail, thereby reducing labor costs
Fourth, the inauguration of 4C mailbox suites would ensure conformance to DA standards (American's with Disabilities Act).
The nation's leading provider of wall-mounted commercial mailboxes, The MailboxWorks, carries the most complete line of 4C mailboxes available.  Since every tenant project is different, The MailboxWorks offers complimentary professional consultation to help clients select the most optimal configuration for their 4C mailboxes and 4C mailbox shelters.

Regardless if one's project is a replacement of older, non-conforming mailbox units or a new project, The MailboxWork's consultants can offer professional assistance in selecting the best 4C mailbox for one's application (in some situations, the USPS allows property owners to simply replace older decertified mailbox units with "replacement mailboxes."  The MailboxWork's consultants can help you discern when this regulation would apply to one's project and provide guidance to help you contact your local postmaster for final approval in a replacement scenario.

Additionally, for commercial mailbox projects that require multiple 4C mailboxes in colors beyond postal gray, The MailboxWorks strong inventory processes and manufacturing power allows today's discerning buyers to find a wide variety of choices and, at the same time, save significantly with quantity discount offers on 4C mailboxes and 4C mailbox shelters.  And due to The MailboxWorks leading position in the marketplace, buyers of Commercial Mailboxes can often receive both free shipping and free pedestal offers on 4C mailboxes.

Tags: 4C Mailboxes


Categorised in: Commercial Mailboxes