The Favorite Choice of Discerning Developers and Property Managers: 4C Commercial Mailboxes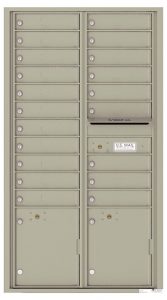 As commercial developers and property managers strive to maximize tenant revenue by reducing turnover, one major focus aims specifically at high visibility property improvements (ones in which all tenants receive the benefit of the improvement).  As such, one popular area to improve that hits this target every time is the installation of new 4C Commercial Mailboxes and/or 4C commercial mailbox accessories.
UPDATE: 4C Pedestal Mailboxes have been discontinued as of November 30, 2020. The USPS Cluster Box Unit (CBU) Mailbox is now the standard for all multi-family mail delivery.
4C commercial mailboxes by Auth Florence Manufacturing are USPS-approved mailboxes designed for multi-tenant applications such as business centers, apartment buildings, office buildings, condominiums, and other such multiple tenant projects. These versatile 4C mailbox suites are also used on university campuses, in governmental agencies, military bases, medical facilities, and financial institutions.   Besides the fact that 4C commercial mailboxes are often the required Commercial Mailboxes of the USPS, they are also the favorite of property developers and managers because 4C mailboxes are engineered to withstand high demand use over decades of time with little or no maintenance.
Constructed with both aluminum (heavy gauge) and stainless steel (300 series) components, the 4C commercial mailboxes are designed for maximum durability from both the elements and daily use.   Property managers seek out 4C mailbox suites for their long-lasting, near maintenance-free finishes that provide quality tactile daily touches for their tenants due to their well-crafted, premium fit and finish.
The 4C commercial mailboxes also provide tenants with a strong sense of security and safety in regard to their mail and packages.  Sporting a unique, dual-locking parcel door device, these 4C commercial mailboxes inculcate a secure feeling among tenants since both incoming and outgoing mail – including packages – are always delivered and sent with premium security.  Property managers also appreciate the well-thought-out surfaces such as the corrosion-resistant, scratch-resistant, and graffiti-resistant finishes which all greatly reduce maintenance and keeps the 4C commercial mailboxes looking new year after year.
Currently, commercial builders and property managers are creating a packaged look for their 4C commercial mailboxes with pre-engineered 4C mail stand kits.  These kits provide an exterior wrap for 4C commercial mailboxes, which are usually installed or inserted into a wall opening.  By providing a full wrap for the exterior of the 4C commercial mailboxes, the entire unit becomes either an indoor or outdoor stand-alone mail center for your tenants.  And because many tenants simply open their mail right at their mailbox, these mail stand kits can also be accessorized with a trash bin module that fits right into the wrapped unit creating a matched, all-in-one unit.  These trash bin modules for the 4C commercial mailboxes are also available without the 4C commercial mailboxes for a well-appointed trash or recycling solution.  All mail stand kits for the 4C commercial mailboxes include all the hardware to install the units (except for any anchoring hardware).

Of course, 4C pedestal mailboxes are also offered with a pedestal for stand-alone use as well as with a depot kit that creates a freestanding wall wherever you need it.

The MailboxWorks carries a complete line of 4C commercial mailboxes and 4c commercial mailbox accessories and the expert staff guidance can create nearly any configuration specified.  Contact the MailboxWorks toll-free at 1-866-717-4943 for assistance in configuring the perfect 4C commercial mailbox for your project.

Tags: 4C Mailboxes


Categorised in: Commercial Mailboxes