3411S-04 Salsbury 4C Pedestal Mailboxes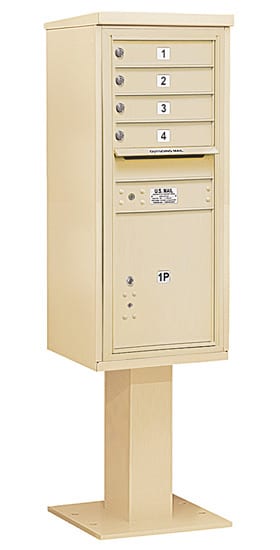 Order Placed
Processing Time
Order Shipped
Transit Time
Delivery
Learn more about our estimated shipping and lead times
The lead times listed on this product page represent the best-case scenario for shipping estimates. While we may show that a product "usually ships" within a given period, this period should not be confused with a delivery estimate. Rather, we expect the product to ship from the manufacturer's warehouse within this time-frame.
What does this mean for you? Once you place an order on our site, we begin processing the order with the manufacturer. The processing lead time we list on the product page is the most current estimate from the manufacturer regarding the product.
Note
If you purchase a commercial mailbox from us and decide to cancel because a competitor lists a "faster" lead time on their site, you may be delaying the time it will take to receive your mailboxes.
Why? Because you are placing a new order to be sent to the same manufacturer for processing.
FAQs
How long will it take to receive my commercial mailbox?
When you order a commercial or cluster mailbox, we process the order with the manufacturer within 1 business day. Once processed, the order usually ships in the time-frame listed on the product page. Since Cluster Mailboxes are large items, they ship via freight carriers. This means that the transit times for these will usually be 5 to 7 business days.
A few things to note about purchasing a cluster mailbox or similar large, commercial-grade product:
The freight carrier will call the number you list on the shipping address a day before delivery to schedule a delivery appointment with you.
The manufacturer ships using their chosen freight carrier depending on the products ordered and the delivery location.
The majority of online retailers who sell commercial mailboxes (CBUs, etc.) ship directly from the manufacturers, just as we do.
If you choose professional mailbox installation with your commercial mailbox purchase, please note that same-day installation is not available. Installation will be scheduled after the delivery of your mailbox. In most cases, installation is completed within one week following delivery.
What if I order multiple products from different brands?
If you ordered multiple products, it is possible that they are made by different manufacturers. If this is the case, your products will ship to you separately from each manufacturer.
For example, if you purchase a Mayne Post with a Whitehall Mailbox, your post will ship from Mayne's warehouse in about 3 business days, but your mailbox will ship separately from Whitehall in about 2 to 3 weeks if customized with address numbers.
How can I estimate my shipment's transit time?
Depending on the carrier and your location, transit times will vary. Delivery estimates are best projected using your carrier tracking number. Once your order ships, we'll send you a shipping confirmation email that includes your carrier (FedEx, UPS, YRC, etc.) and tracking number.
Note
If you place an order with us and do not receive an Order Confirmation email, check your spam inbox. If you still do not see an Order Confirmation email in your inbox, contact us right away at (866) 717-4943 . We will provide you with your Order Number and any other details you need.
Note
Ships Via Common Carrier Truck Delivery
Volume Discount Pricing
| Quantity | Price |
| --- | --- |
| 2-5 | $1187.00 |
| 6+ | $1131.83 |
The Salsbury 4C pedestal mailboxes displayed here exceed the security requirements necessary for horizontal, multi-unit, apartment and commercial 4C pedestal mailboxes
4C Pedestal Mailboxes include a USPS approved 4C horizontal mailbox unit, a matching enclosure and pedestal
For USPS delivery of mail, contact your local postmaster for approval
Your new Salsbury 4C pedestal mailbox comes with private master locks. For USPS delivery, the post office will install their own locks.
Features heavy gauge, aluminum mailbox construction with series stainless steel components
Designed for exceptional strength and long lasting durability for outdoor use
Salsbury 4C mailboxes are corrosion resistant and come complete with a powder coat finish to resist the elements
Salsbury commercial mailboxes include 1 parcel locker and 4 tenant mailboxes plus an outgoing mail slot
An optional mail slot plug to restrict access to mail slots is also available,call us or chat with a customer care rep if you have any questions.
The parcel lockers' double locking mechanism offer added security for sensitive packages and oversized mail
Choose up to 3 digits for your numbering decals or up to 18 characters for engraved mailbox identification
USPS requires that all new construction or major renovations must utilize 4C mailboxes
See MailboxWorks complete selection of commercial mailboxes
see more details
Finishes and Accents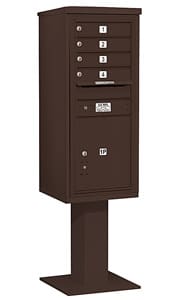 Bronze
SIH3411S-04BRZ
Black
SIH3411S-04BLK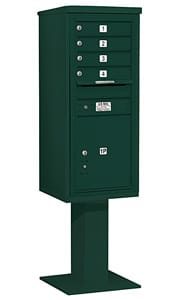 Green
SIH3411S-04GRN
Gray
SIH3411S-04GRY
Sandstone
SIH3411S-04SAN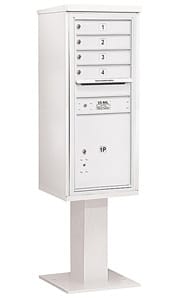 White
SIH3411S-04WHT
Swipe left or right.
Product Options
Back
Salsbury Mailboxes Custom Placard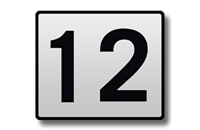 Salsbury Mailboxes Engraving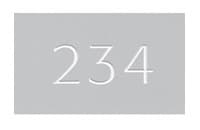 Salsbury Mailboxes Black Fill Engraving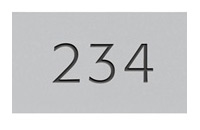 Product Details
Dimensions
| Item | Height (inches) | Width (inches) | Depth (inches) |
| --- | --- | --- | --- |
| Overall | 69.125" | 17.5" | 19" |
Details
Mailbox Item Number:

SIH3411S-04

Includes:

Mailbox, Pedestal, Private Master Locks, Tenant Door Locks With 3 Keys Each, 4 Tenant Compartments, 1 Parcel Compartment, Outgoing Mail Slot

Manufacturer:

Salsbury Industries

Shipping Weight:

105 lbs.

Locking:

Locking mailbox.