Hentzi Copper Rural Post Mount Mailboxes
Click image to enlarge.

Retail Price:

$204.67

Our Price:

$177.97
Free Shipping
No tax outside IL
Ships in Back Ordered Until 7/24.
Drawn to perfection, these hand embossed and polished copper plates are mounted on USPS approved steel boxes
The Hentzi Rural Copper Decorative Mailbox, shown with Wild Birds design, is nothing short of artwork
It is constructed of a steel mailbox painted black and covered in a copper wrap
No two alike, these beautifully crafted decorative custom mailboxes are wrapped with hand-drawn copper
All original designs are embossed on both sides
Need a post for your new mailbox? Check out our decorative universal mailbox posts
All products on this page are custom made and therefore are not returnable
View more Decorative Post Mount Mailboxes
see more details
Finishes and Accents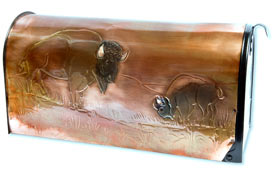 American Bison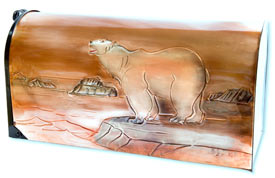 Arctic Polar Bear
Bald Eagle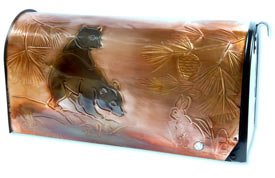 Bear Cubs
Alert Great Horned Owl
Black Lab
Boston Lighthouse
Brook Trout and Mayfly
Brook Trout and Streamer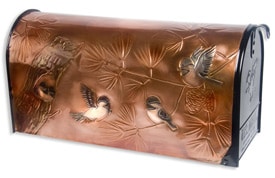 Chickadee Family
Brown Trout
Clipper Ship and Lighthouse
Bull Moose
Covered Bridge
Classic Chickadees
Dragonfly and Wheat
Dragonfly and Pine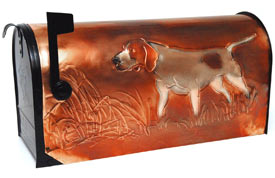 English Pointer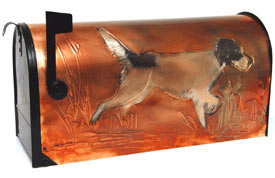 English Setter
Forest Buck
Fox
Garden Dragonflies
German Shorthair Pointer
Golden Retriever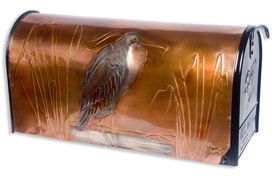 Great Blue Heron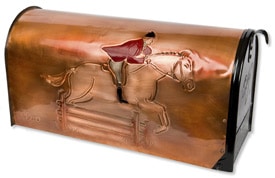 Jumper
Leaping Dolphin
Lighthouse and Sailboats
Main Coast Lighthouse
Majestic Maple
Mallards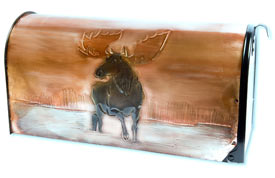 Moose In Lake
New England Clipper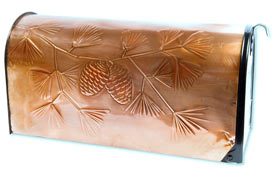 Norway Pines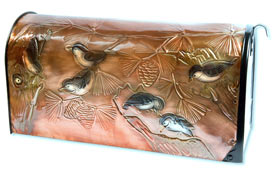 Nuthatches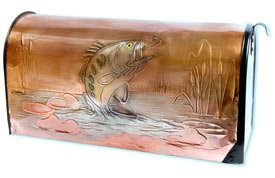 Old Large Mouth Bass
Old Rugged Cross
Owl
Peaceful Heron
Polar Bear Family
Portland Lighthouse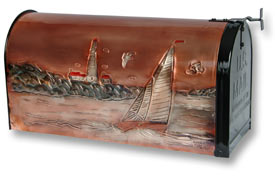 Portland Lighthouse and Sailboat
Proud Great Horned Owl
Proud Pileated Woodpecker
Quail Covey
Rainbow Trout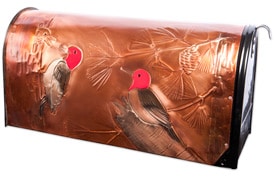 Redheaded Woodpecker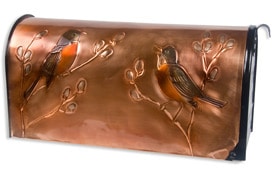 Robins and Pussy Willow
Ruffed Grouse
Sailing Days
Schooner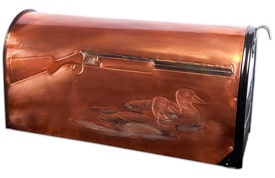 Shotgun and Ducks
Shotgun and Pheasants
Silver Wheat
Sitting Lab
Soaring Marlin
Sperm Whale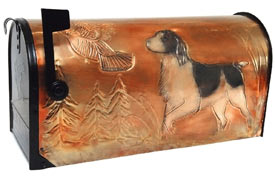 Springer Spaniel
Striped Bass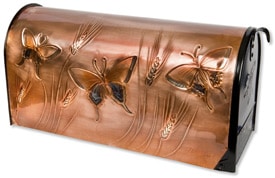 Summer Butterflies
Summer Dragonflies
Winchester and Deer
Wild Birds
Yellowstone Wolf
Swipe left or right.
Product Details
Dimensions
| Item | Height (inches) | Width (inches) | Depth (inches) |
| --- | --- | --- | --- |
| Mailbox | 11 | 8 | 21 |
Details
Mailbox Item Number:

HZMRURAL

Includes:

Mailbox

Manufacturer:

Hentzi Copper Designs

Shipping Weight:

10 lbs.

Locking:

Non-locking mailbox.