Mounting Hardware Kit for CBU Mailboxes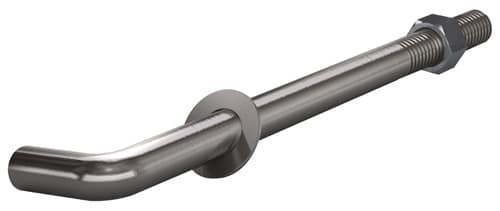 Click image to enlarge.
Retail Price:

$39.26

Our Price:

$34.13
Free Shipping
No tax outside IL
In Stock
Ships in 1 Day.
The CBU mailbox mounting hardware kit is for installations when new concrete is being poured
Constructed of stainless steel
L-Bolt Anchors are used when new concrete pads are being poured for your cluster mailboxes.
The L shaped anchor bolt is inserted into the wet concrete so that as the concrete sets the bolts are secured in place.
If new concrete is being poured, the L-bolt is the best possible CBU mailbox anchoring option.
This option comes with 4 stainless steel L-bolt anchors that are 7 inches by 2 inches, 4 washers, and 4 matching hex nuts.
Wedge Stud Anchors are used when there is an existing concrete pad that is in good condition and meets postal approval for cluster mailboxes.
A hole is drilled into the concrete and the anchor bolt is inserted. Then as the nut is tightened and the anchor is pulled up, the base expands for secure holding of your CBU mailbox.
This option comes with 4 stainless steel wedge stud anchors that are ½ inch wide and 5 ½ inches long, 4 washers, and 4 matching hex nuts.
Upgrade your installation hardware by including two optional tamper-resistant nuts to prevent your CBU cluster mailbox from being stolen. Tamper-resistant nuts install easily but are hard to remove.
The nut is easily installed using a standard socket or wrench. The hex head breaks away upon tightening and leaves a non-removable cone.
The set of 2 stainless steel tamper-resistant nuts should be installed kitty corner from each other in order to deter theft.
Works great with CBU mailboxes, outdoor parcel lockers, NDCBUs, and sentinel site lites
Everything you need to safely and securely install your brand new mailboxes
see more details
Product Details
Dimensions
| Item | Height (inches) | Width (inches) | Depth (inches) |
| --- | --- | --- | --- |
| L Bolt Anchor | 7 | 2 | 0.5 |
| Wedge Anchor | 5.5 | 0.5 | 0.5 |
Details
L Bolt Anchor Item Number:

AFZCBUBOLTS

Wedge Anchor Item Number:

MCECBUWEDGE

Tamper-Resistant Nut Item Number:

ALECBUNUT

Includes:

4 Anchor Bolts, 4 Standard Nuts, 4 Washers

Manufacturer:

MailboxWorks

Shipping Weight:

2 lbs.