Three Emerging Trends in Wall Mount Mailboxes for 2017
If you are a homeowner thinking about buying a residential wall mount mailbox, you should take a moment and consider the emerging mailbox trends for 2017.
As a leading North American supplier of residential wall mount mailboxes, The MailboxWorks has identified three emerging mailbox trends for the coming year:
LED lights for mailboxes (like the light kits for America's Finest Mailboxes)
Stainless steel mailboxes
Vivid colored mailboxes (like the Monet line of House Art Mailboxes)
Mailbox LED Lights
The first mailbox trend to emerge for 2017 is the shift towards buying a home wall mount mailbox with LED lights.
America's Finest Mailboxes offers a LED light kit for their handmade, solid brass wall mount mailboxes that are available as a vertical, horizontal, or square home mailbox.
These lighted mailboxes feature their own signature glass paneled maibox front that can be customized with your choice of 5 different art glass panels and more than a dozen and a half picturesque cutout designs. As well, these brass mailboxes are available in 6 different finishes including Architectural Bronze, New Verde, Old Brass, Old Penny, Textured Black, and Warm Brass.
With this many options, there are a myriad of combinations (over 4000) so you can customize the wall mount mailbox to your liking. Add the LED light kit and you will haved an unparalleled wall mount mailbox that is truly unique.
The LED light kit uses only eight watts of power and can be powered through either twelve volt or one hundred and twenty volt wiring. And since the LED light kit is designed to last over thirty thousand hours, it will last for years before you need to replace it.
Stainless Steel Mailboxes
The second mailbox trend to emerge for 2017 is towards buying the uber-popular stainless steel mailboxes. The broad array of style and design choices available at The Mailboxworks include:
More than two dozen different stainless steel mailbox styles
Twenty-one wall mount stainless steel mailboxes
Four locking stainless steel wall mount mailboxes
And three wall or door mounted stainless steel mailbox slots
Entry level models such as the Fouriserie Ecco mailboxes are priced under one hundred dollars, while most mailbox models are easily accessible for those with budgets of under few hundred dollars.
For luxury-minded mailbox shoppers, the European Home Vega stainless steel mailbox and the European Home Antares mailbox (pictured here) are excellent luxury stainless steel mailboxes that make a statement.
Whether your design aesthetic leans towards the sweeping curves of the moderately priced Capella stainless steel wall mount mailboxes or the super boxy look of the Ecco 10 home mailboxes, there is a style and look for every homeowner's tastes.
Mailbox Color Choices
The third key trend in 2017 for wall mount mailboxes are the stunningly vivid colors available in the unique Monet wall mount mailboxes offered by The MailboxWork's line of modern House Art Mailboxes.
Designed by artist Ginger Finley, the attractive design of the Monet mailbox has been recently augmented with a wide palate of striking colors including bright silver, dark bronze, marshmellow white, rust, satin black, and four different neon colored choices: a stunning Bougainvillea pink, a Key Lime green, a bright Bonita blue (pictured here) and a vibrant Miami mango orange color.
While mailbox colors like white, bronze, black, and rust color are ubiquitous among America's wall mount mailboxes, and are designed to blend in with the architectural surroundings, the new trend for 2017 is obviously towards the more modern, vivid, neon mailbox colors that "pop" and though rare, are gaining some ground with homeowners.
Need Help Keeping Up with the Trends?
If you happen to live in the Chicago area, feel free to drop by Naperville showroom location. You can also shop for wall mount mailboxes online since The Mailboxworks can ship your new mailbox to anywhere within North America.

If you have any questions about new mailbox trends for 2017, or if you feel you need help buying a contemporary mailbox, please call and speak with our mailbox experts toll free at 1-800-824-9985 or use our online contact form.

Tags: Design Ideas and Inspiration, Residential Mailboxes, Wall Mount Mailboxes


Categorised in: Design Ideas and Inspiration, Residential Mailboxes, Wall Mount Mailboxes
Related Products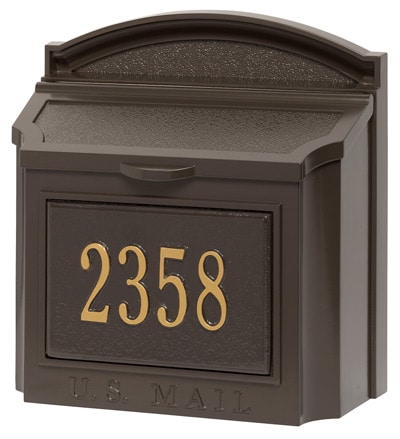 $

143.99
free shipping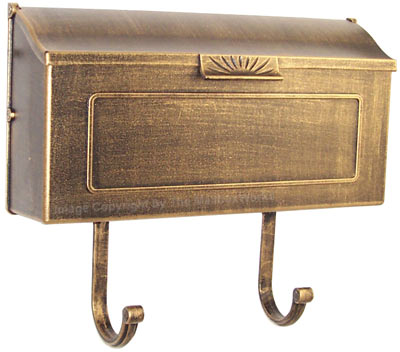 $

73.01
free shipping
$

166.11
free shipping