Craftsman Style Waterglass Studios Copper Mailboxes
A Mailbox Reminiscent of Frank Lloyd Wright Architectural Design
In the world of high end residential copper mailboxes, Waterglass Studios mailboxes, echos the Frank Lloyd Wright style.
At the turn of the 20th century, Frank Lloyd Wright, one of America's greatest architects, launched his architectural practice in a quiet village on the western edge of Chicago.
From the start, Wright began pendulum shifting away from the heavily adorned Victorian architecture so popular in Europe. Wright launched a new American style, the Prairie Style that became known for its sheer simplicity and organic look.
Waterglass Studios mailboxes are handmade out of copper. They are a perfect architectural compliment to not only Frank Lloyd Wright's Prairie style but also a wide variety of American architectural styles. You can buy these copper mailboxes online at The Mailboxworks, America's largest retailer of high end residential mailboxes.
Prairie Sytle Waterglass Studios Mailboxes
Simple in its boxy design, these Prairie style mailboxes are adorned with a slant roof and under-eve slat treatment. They are then hand burnished to give these Waterglass Studios copper mailboxes a beautiful, naturally weathered finish.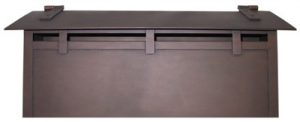 The three available finishes on these high end residential mailboxes include:
Plain copper finish
Hammered copper finish
Hammered copper finish with Franciscan monk detailing
Depending on the application, Waterglass Studios' Frank Lloyd Wright style mailbox is also offered in both a vertical and horizontal orientation. They are both available with an optional under mounted newspaper holder to keep the day's news dry and convenient to retrieve.
In addition, both the horizontal and vertical copper mailboxes are large enough to collect not only daily mail but also larger magazines and envelopes.
For homeowners looking to compliment their home with a Frank Lloyd Wright style mailbox, Waterglass Studios copper mailboxes feature the kind of quality construction that one can often only measure in hand. The fit and finish of these handmade copper mailboxes mirror the pride of great American handiwork and the attention to detail is unmatched among its peers.
As one might expect with such a high end product, Waterglass Studios mailboxes are also USPS approved and can be purchased as a post mount or wall mount mailbox, and includes all the necessary installation hardware.
Order Online at The MailboxWorks
The MailboxWorks is a leading online retailer and has been a trusted supplier of residential mailboxes since 1989.

For more information about mailboxes by Waterglass Studios or any other copper mailbox, please send us an email or call us toll free at 1-866-717-4943.

Tags: Mailbox Style Guides, Metallic Mailboxes, Wall Mount Mailboxes


Categorised in: Design Inspiration & Gift Ideas