A Primer on Apartment Mailboxes: Four Primary Choices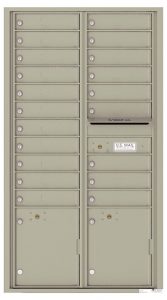 The most common areas for tenants of multi-unit apartment buildings often include the complex's Apartment Mailboxes.  And today's architects and building managers have four primary choices when it comes to providing centralized mail delivery for their tenants:
Front Loading 4C Horizontal Mailboxes
Rear Loading 4C Horizontal Mailboxes
CBU Mailboxes
Vertical Mailboxes
UPDATE: 4C Pedestal Mailboxes have been discontinued as of November 30, 2020. The USPS Cluster Box Unit (CBU) Mailbox is now the standard for all multi-family mail delivery.
The most common choice for apartment mailboxes is the front loading 4C horizontal mailboxes.
Front-loading simply means that in order to "load" the 4C mailbox unit with mail, the postal carrier opens the unit from the front; the same side as where the tenants receive their mail.
Front-loading 4C horizontal mailboxes provide a wide berth of customization in tenant door height, parcel doors, and specialized needs. For standard applications over 80 pre-configured mailbox layouts are available. Additionally, customized mailbox "door slot" options can be chosen for tenant lease payments or collections of other non-USPS items.
Rear Loading 4C Apartment Mailboxes
Another common choice for apartment mailboxes is the 4C rear-loading mailbox. Rear loading 4C horizontal mailboxes allow the postal carriers to load the tenant mailboxes by opening hinged rear door panels mounted on the rear of each unit.

When selecting a rear-loading 4C apartment mailbox unit, one needs to provide a mail delivery room that is secure and not accessible by the public so that the mail delivered is not pilfered or stolen.

The third option for apartment mailboxes is the CBU mailbox (also called cluster box units or cluster mailboxes).  Pedestal mounted CBU apartment mailboxes are an excellent choice for multi-tenant complexes because they are wall independent and can be mounted anywhere the US Postal Service approves.

CBU cluster mailboxes are available in 8, 12, 13, and 16 tenant door configurations. And a new pedestal mount option for 4C apartment mailboxes provides tenant door options up to 29 doors (as long as US Postal Service approves their use).

The fourth option for apartment mailboxes is an excellent choice for minor renovation projects; vertical mailboxes. While all new construction projects or major renovation projects require 4C horizontal commercial mailbox systems, vertical mailboxes can be utilized as replacement mailboxes for apartments and multi-tenant complexes that already have them.

The MailboxWork's vertical mailboxes are constructed to meet USPS security standards and are available in twelve finishes; standard aluminum and eleven powder coat finishes. Utilized only for indoor applications, vertical apartment mailboxes may be ordered from three wide to seven wide units and have a variety of tenant-friendly options available such as a standard collection box, name/address tags, and even doorbell features.

Tags: 4C Mailboxes, Cluster Box Unit (CBU) Mailboxes


Categorized in: Commercial Mailboxes