Versatile 4C Horizontal Mailboxes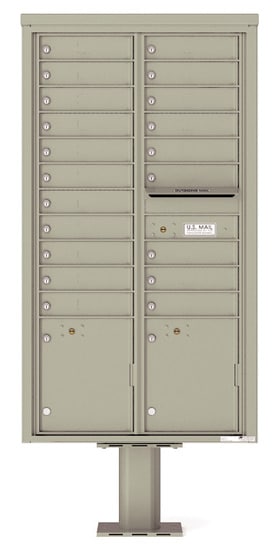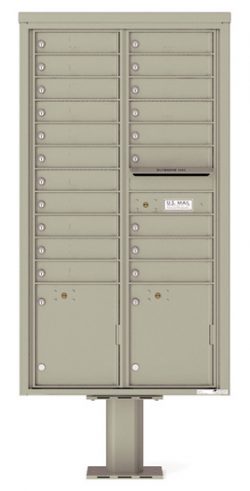 Auth Florence versatile 4C horizontal mailboxes are specifically constructed to meet the United States Postal Service's USPS STD-4C regulation requirements. In general, any type of building, be it an apartment or office block, must incorporate in its design and construction a secure, centralized mail delivery and collection center.
Versatile 4C horizontal mailboxes are very flexible mailbox suites that were designed to accommodate the needs across numerous building designs, offering an efficient mail distribution solution. They can be installed in a variety of ways including as:
Stand-alone pedestal mailboxes
Kiosk mounted outdoor mailboxes
Wall mounted front loading mailboxes
Recessed (or surface mounted) in a wall and set up for secure mail room delivery
Both types, residential and commercial versatile 4C horizontal mailboxes, can be ordered for either USPS mail distribution or for private mail delivery services.
Modular Design of Versatile 4C Horizontal Mailboxes
Being aware of the need to offer a flexible range of products for their customers, Auth Florence Manufacturing created a series of modular designs for USPS approved, versatile 4C horizontal mailboxes. They can be adapted to meet specific mail delivery system designs and configured with access doors for up to twenty users per module.
In addition, Auth Florence 4C mailbox compartments can be individually customized in a variety of door sizes! This can benefit users by offering a choice that will meet a particular mail capacity need.
As protection against adverse weather conditions, the outer casings of all front and rear loading Auth Florence versatile 4C horizontal mailboxes are finished in a weather resistant coating and are offered in a choice of ten different colors.
Assistance with 4C Mailbox Suites Layout
Florence versatile 4c horizontal mailboxes offer many options for multi-unit tenant buildings and apartment complexes. Some residential buildings require wall mounted or recessed front loading USPS standard 4C horizontal mailboxes, while others are more suited for recessed rear loading 4C horizontal mailboxes with access from a secure mail delivery room.
Since there are limitless layout options, The MailboxWorks offers free layout assistance to help you decide the residential (or commercial) horizontal mailbox design that would best suit your project. Simply call us at 1-866-717-4943 and let us help you configure your 4C horizontal mailboxes layout for:
Tenant door sizes
Parcel door sizes and placement
Collection box sizes for outgoing mail
Outdoor 4C Mailbox Options
While versatile 4C horizontal mailboxes for commercial use can be recessed or wall mounted with front or rear loading mail access, in many instances Florence horizontal mailboxes are installed outdoors.
Since USPS approved 4C mailbox suites are modular and specifically built to offer flexibility and versatility, you can configure your outdoor cluster mailboxes in endless combinations to meet your unique project requirements. In fact, Florence versatile 4C horizontal mailboxes exceed the construction standards for the STD-4C mailboxes.
All Auth Florence 4C mailboxes are STD-4C compliant and USPS approved meeting or exceeding USPS standards!
Buy residential and commercial versatile 4C horizontal mailboxes online at MailboxWorks or for more information (or assistance) contact or call us toll-free at 1-866-717-4943.
---
Customers who trusted us with their projects: